In the heart of Collingwood's community, a place of hope and healing is quietly making a significant impact on the lives of children and families: Oscar's Place Rehabilitation and Wellness Centre for Children has become the premier provider of pediatric rehabilitation services in the Collingwood area and is quickly gaining recognition for its unwavering commitment to delivering top-tier care.
Their beautiful location is conveniently located next to walking paths, a splash park and many food and beverage locations.
You can take a tour of the place from home:
Oscar's Place exclusively serves children aged 17 and under, recognizing the unique needs of young patients.
This singular focus ensures that every child receives the specialized care they require.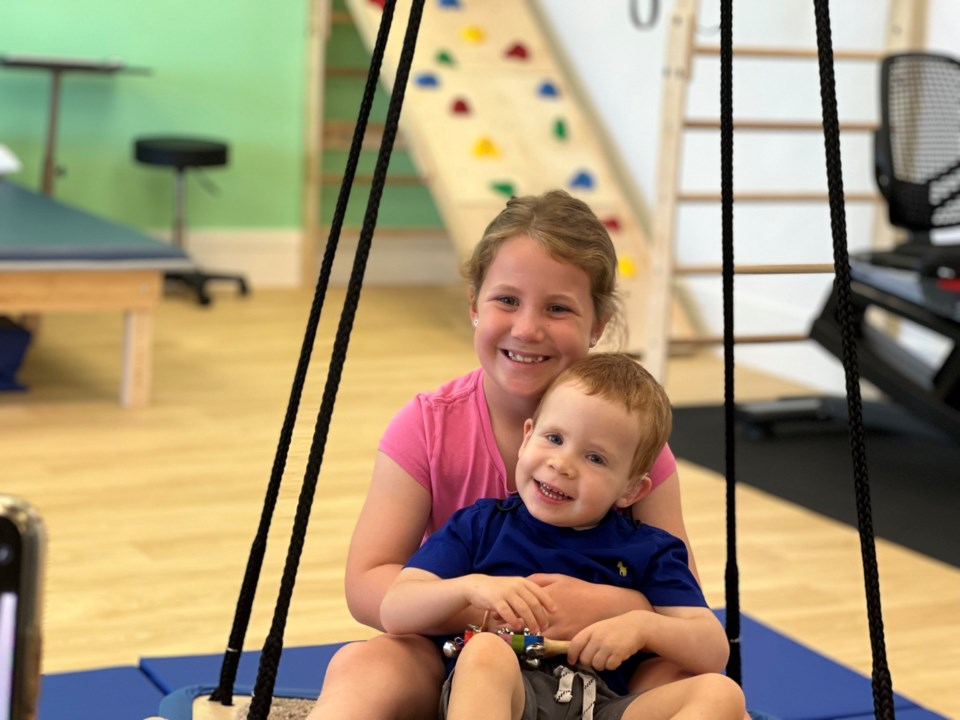 As Oscar's Place grows, it is actively seeking an Occupational Therapist to join its team of passionate professionals. This role is crucial as they strive to address a pressing need in the community.
Currently, 40 children are waitlisted to see an Occupational Therapist, emphasizing the urgency of this recruitment. The Occupational Therapist's role at Oscar's Place involves improving children's participation and quality of life through developing self-care, productivity, and leisure skills. The flexibility of this position allows for Part Time OR Full Time employment.
For more information on the job please visit: Job Ad: Occupational Therapist.
Oscar's Place is also actively seeking a Registered Mental Health Service Provider to join our team. The mental health service provider will provide support for children under the age of 18 which could include providing support to their parent(s) or other caregivers as well.
For more information on the job please visit: Job Ad: Mental Health Service Provider
The center offers a comprehensive suite of services tailored to address the various rehabilitation needs of children.
These services encompass:
Physiotherapy: Focused on improving physical well-being.
Occupational Therapy: Enhancing fine motor skills, daily activities, and independence.
Speech-Language Therapy: Promoting communication and language development.
Psychotherapy: Addressing mental health concerns among children and adolescents.
Kinesiology: Providing specialized exercise and movement programs.
Baseline Concussion Testing and Management: Safeguarding the brain health of young patients.
See more information here: Baseline testing and post-concussion programming.
Intensive Therapy Weeks: Ideal for a child with developmental concerns, known neurological conditions or an out of town family.
Wellness Classes: Whether you want to drop in for a class or commit to a session, we have many options for children and caregivers.
Therapeutic and Inclusive Summer Camps: From our very popular multi-disciplinary camp to our sport camp we have your child covered this summer!
Themed Therapy Days: A great opportunity to visit the beach, pool or park and change up your child's therapy environment.
And Behavioral Therapy is Coming Soon!
Oscar's Place acknowledges families' financial challenges while raising children with exceptional circumstances. The center has established a special fund supporting local families caring for children with complex needs to alleviate this burden. A recent golf tournament fundraiser generated an impressive $6,500, providing $500 each to 13 local families to aid in their child's care.
Oscar's Place takes pride in its multi-disciplinary approach to rehabilitation. Recognizing that children with complex needs benefit from a team of specialists, the center provides physiotherapy, occupational therapy, speech therapy, and mental health services under one roof. This integrated approach ensures that each child's care is holistic and centered around their unique needs.
Whether your child is grappling with a neurodevelopmental disorder, recovering from an orthopedic injury, managing the aftermath of a concussion, or requires support in reaching developmental milestones, Oscar's Place Rehabilitation and Wellness Centre for Children stands ready to assist. The center offers the expertise, support, and compassion to help every child thrive.
For further information, visit Oscar's Place and take the first step towards a brighter future for your child.
At Oscar's Place, it's more than care—it's compassion in action.