Join us for a 25th Anniversary Celebration! Walk 11,000 steps for the 11,000 people living with dementia in Simcoe County
This year marks the 25th Annual IG Wealth Management Walk for Alzheimer's, a fundraiser that takes place all across the country.
---
Currently, over 600,000 Canadians live with dementia. By 2050, that number is expected to rise to nearly 2 million people. If the onset of dementia could be delayed by 10 years, over 4 million new cases could be avoided by 2050.
To help, all you need to do is take a few steps.
The Walk for Alzheimer's takes place throughout the entire month of May. The Alzheimer Society of Simcoe County invites us all to walk 11,000 steps this month: one step for each person living with Alzheimer's disease or other dementias in Simcoe County. It is a chance for participants to sign-up, fundraise, pledge and walk in support of friends, neighbours and loved ones. Through the month of May, you can simply "walk where you are" to raise awareness and pledges.
Last year over 300 participants took part and this year they are looking to welcome close to 400.
They are also excited to announce that they will be hosting an in-person celebration at the end of the month. On Sunday, May 28th, the community is invited to come together to celebrate the main IG Walk for Memories event at the Simcoe County Museum.
There will be an accessible indoor walk option, and paths through the museum grounds and gorgeous local Simcoe County Forest trails. The route is open to all.
Participants can look forward to enjoying a great day outdoors connecting with the Society's team of staff and volunteers. It will be a beautiful family-friendly event celebrating many who support the Society with music, local vendors, education tables and a free BBQ. Participants can share who they are walking for and learn about the charity's growing selection of programs and how to become a dementia-friendly champion.
"We are looking forward to bringing the community together at the Simcoe County Museum to celebrate and recognize our volunteers and donors," says Ann-Marie Kungl, Chief Executive Officer. "It is because of the incredible support from our community that we continue to be able to provide programs for free to 11,000 individuals and their care partners. Our team is excited to be back in-person with so many we cherish."
Participants are also welcome to slow their pace that day and pop inside the Simcoe County Museum to view the fascinating indoor displays filled with the rich history of the region!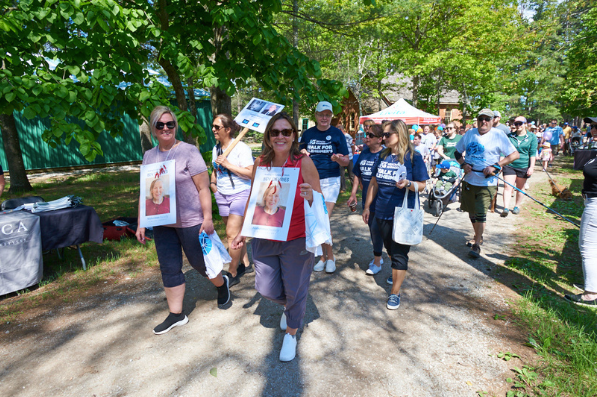 YOU'RE INVITED
DATE: Sunday, May 28, 2023
LOCATION: Simcoe County Museum, 1151 ON-26, Minesing, ON, L9X 0Z7
TIME: 9 am to 1 pm
OPENING CEREMONIES: 9:30 am, followed by our walk (however, the walk route will be open all day!)
Since 2015, the IG Wealth Management Walk for Alzheimer's has raised over $41 million for people living with dementia and their care partners. The walk is held annually in more than 200 communities across the country and is Canada's largest event to raise awareness and funds for dementia care and support.
All funds raised at this local walk stay in Simcoe County and cover the costs of offering community-based programs and individualized support. "We constantly partner to offer social recreation programs like Minds in Motion, in-home recreation and art initiatives.
Staff offer counselling, peer support and assistance with navigating access to services. In addition to supporting individuals living with dementia and their care partners, our education team offers free training to community partners on being dementia-friendly champions," says the CEO.
The Society is a charitable not-for-profit that needs to self-fund close to 40% of their budget each year. "This walk is our key fundraising event, and we aim to raise $100,000 dollars to continue to offer our programs and services for free and respond to the growing demand for our support by people living with dementia and their care partners," says Kungl.
Sign up here to participate in the 25th Anniversary IG Wealth Management Walk for Alzheimer's in Simcoe County. The route is fully wheelchair and walker accessible and is open to all participants.
Says Kungl, "We were thrilled to congratulate the MacLaren Art Centre on becoming a Dementia-Friendly Supporter in the Simcoe County area. We welcome all to explore free dementia-friendly training with our team and help to establish Simcoe County as a region that is leading in this approach. Our programs and service guide change seasonally to make sure we remain visible in all our communities."
Find out how to volunteer with the Society and connect with programs and services of interest to you or a loved one through their website, Alzheimer Society of Simcoe County, or call 705-722-1066.
Contact Tanya Saari at [email protected] for more information. You can also follow the Society on Facebook.