A man who has spent the past three-and-a-half years in jail awaiting trial in the death of Orillia resident Tracy Reid should be acquitted, his lawyer insists.
On Tuesday, Eginhart Ehlers told a Barrie judge that the case against Robert Sampson, 59, leaves reasonable doubt of his guilt. That, he added, is bolstered by his alternate suspect theory suggesting that someone else may have been responsible for Reid's death.
Sampson has maintained his innocence all along.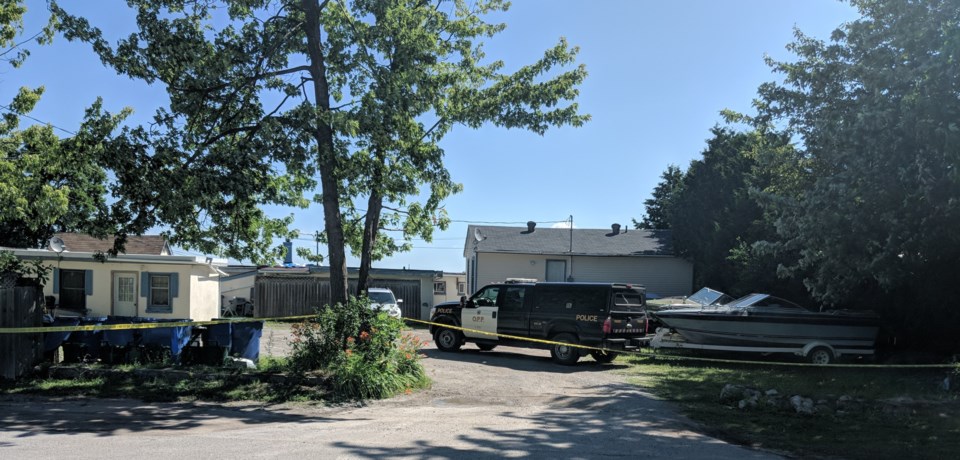 Reid, 45, was found severely injured outside the Silver Swan Villa on Davey Drive on June 19, 2019 and was later pronounced dead in hospital. It wasn't until the following December that Sampson was charged.
Sampson, who has been rolled into the court in a wheelchair while cuffed, has been in jail awaiting his days in court since.
"There's no evidence … that Mr. Sampson caused the death of Tracy Reid," Ehlers told Superior Court Justice Vanessa Christie at the end of his final submission to the court on Tuesday.
Sampson's guilt, the Crown countered, is an "inescapable conclusion" based on the evidence. Reid suffered multiple blunt-force injuries to her face, head, neck, torso, and extremities, with most concentrated on the face and neck.
Although the post-mortem examination could identify no single fatal injury, the medical examiner found Reid died from a combination of factors: blunt head and neck injuries, coronary artery disease and recent cocaine exposure.
Crown attorney Melisa Montemurro contends that Sampson committed first-degree murder by sexually assaulting — indicated by injuries found to her breasts, buttocks and pubic area as well as how her partially clad body was found — and "brutally beating" Reid, which contributed to her death.
Sampson, she added, had a history of physically assaulting Reid in their "tumultuous and often violent" relationship.
"Robert Sampson was incapable of controlling his rage toward Tracy Reid, especially when intoxicated, even in the presence of others," Montemurro wrote in a written submission presented to the court.
"The only available inference on all of the evidence is that Robert Sampson is the person who caused the blunt injuries to Tracy Reid," the Crown added.
The evidence suggested the two were together during the time that Reid suffered the injuries, Montemurro said.
She said that if the judge does not find that Reid was sexually assaulted, Sampson should be convicted of second-degree murder or manslaughter if the judge has reasonable doubt whether Sampson had the intent required for murder.
Sampson, said his lawyer Ehlers, has a right to silence and doesn't need to prove his innocence. The defence did not call Sampson to the stand to testify.
During his four-hour address to the court, Ehlers described the Crown's case as circumstantial and based upon "unsubstantiated incidences" and "unsavoury witnesses," some of whom showed open hostility to Sampson.
"You have to consider very carefully whether these witnesses can be trusted to tell the truth," Ehlers said.
His alternate suspect theory involved one of the witnesses knocking Reid over with his e-bike causing the injuries identified as among the causes of her death as "more plausible."
That witness was the first to find Reid near the Silver Swan Villa residence. Ehlers said 15 minutes passed before he called emergency personnel — time he suggested the man used to recover the mirror that was knocked off his bike when he struck Reid, which may have also involved moving her onto her back and under a tree.
"He is someone who is not telling the truth" and tailors his story to point the finger at Sampson, said Ehlers.
The responding firefighters, he noted, commented about the bruising on her face but not anywhere else. Their efforts to perform cardiopulmonary resuscitation broke one of her ribs which lacerated her liver. Ehlers suggested it was possible that those efforts also resulted in the bruise on her breast.
The Crown dismissed the defence theory, indicating that the pathologist testified that all the injuries Reid suffered could not be attributed to a hit by an e-bike.
Justice Christie is expected to deliver her verdict Aug. 4.