Simcoe Building Centre (Barrie)
---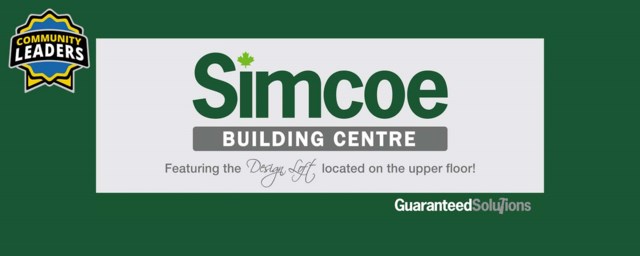 Simcoe Building Centre is your one-stop-shop for all your building solutions. We are locally owned and operated for over 60 years. We know the key to a successful project is having the right tools and supplies to get the job done. Simcoe Building Centre takes pride in offering Guaranteed Solutions to every customer; whether you're a professional or a DIYer. Our team of experienced staff is here to help with all your building and reno jobs; big or small. Contact the Service Desk to get started!
Departments we can help with are:
Decks, Docks and Fences
Drywall and Ceilings
Hardware and Fasteners
Insulation
Landscape and Hardscape Stone
Lumber and Sheet Goods
Nudura ICF
Paint, Stain and Adhesives
Plumbing and Electrical Supplies
Roofing
Siding
Tools and Apparel
Trusses and Engineered Wood
Windows and Doors
Looking for delivery? Simcoe Building Centre has you covered. Our delivery fleet is the best in the biz!
Simcoe Building Centre is also home to the Design Loft. Design Loft is your source for custom designed kitchens and bathrooms. Our talented team of interior specialists can help design the space of your dreams. And we have a team ready to install your custom cabinetry too! Book a free consultation with them today!
Request a Quote at Simcoe Building Centre

Book a Design Loft Consultation
---
Our People