Spring is here, and with the warmer temperatures, more buyers are actively looking at real estate in the Barrie area.
Over the past couple of weeks, appointments to view properties have increased and open houses have started to get busier.
Now that Barrie is experiencing a more predictable balanced market, buyers are feeling more confident when submitting offers as there is now room to negotiate with the seller.
In March, there were 37 condo apartments that sold in Barrie. The average sales price was up minimally from both January and February, and units were taking an average of 61 days to sell.
The average sale price recorded last month was $516,330, down 20 per cent from the same time last year, and units were selling for 98 per cent of the original asking price.
Condo-townhouse sales have been quite low ever since the price to purchase a freehold house has come down into a more affordable price bracket. It is normal to see buyers moving between the freehold and condo townhouse markets as the dwellings are similar in size, but the gap on prices can vary depending on the strength of the market at that particular time.
Now that the gap between the two property types is much smaller, many buyers have shifted their search into the freehold real estate market. This is because the monthly carrying costs are relatively the same, but more money would be put toward the mortgage rather than paying a smaller mortgage payment and a monthly condo fee.
When the prices in the freehold sector begin to climb again, the demand for condo townhouses will probably increase again.
Last month, there were only seven condo townhouses that were sold in Barrie with an average sale price of $540,557, which was a 16 per cent decrease from the same time last year. The average days on market to sell was 43, and units were selling for 98 per cent of the original asking price.
Overall, the Barrie condominium market has been quite balanced this year. Sellers are really thinking through their pricing strategy prior to listing, and with the increase in inventory, buyers are able to take their time.
The average sale price for the whole condo market in the first quarter of 2023 was $491,911, which was 23 per cent lower than the same period in 2022. Although the average sale price has come down quite a bit from last year, it has almost offset the 36 per cent increase we saw from the first quarter of 2021 to the first quarter of 2022.
As one can see in the graph below, the average sale price for a condominium in Barrie is in pretty much the same spot as in 2021.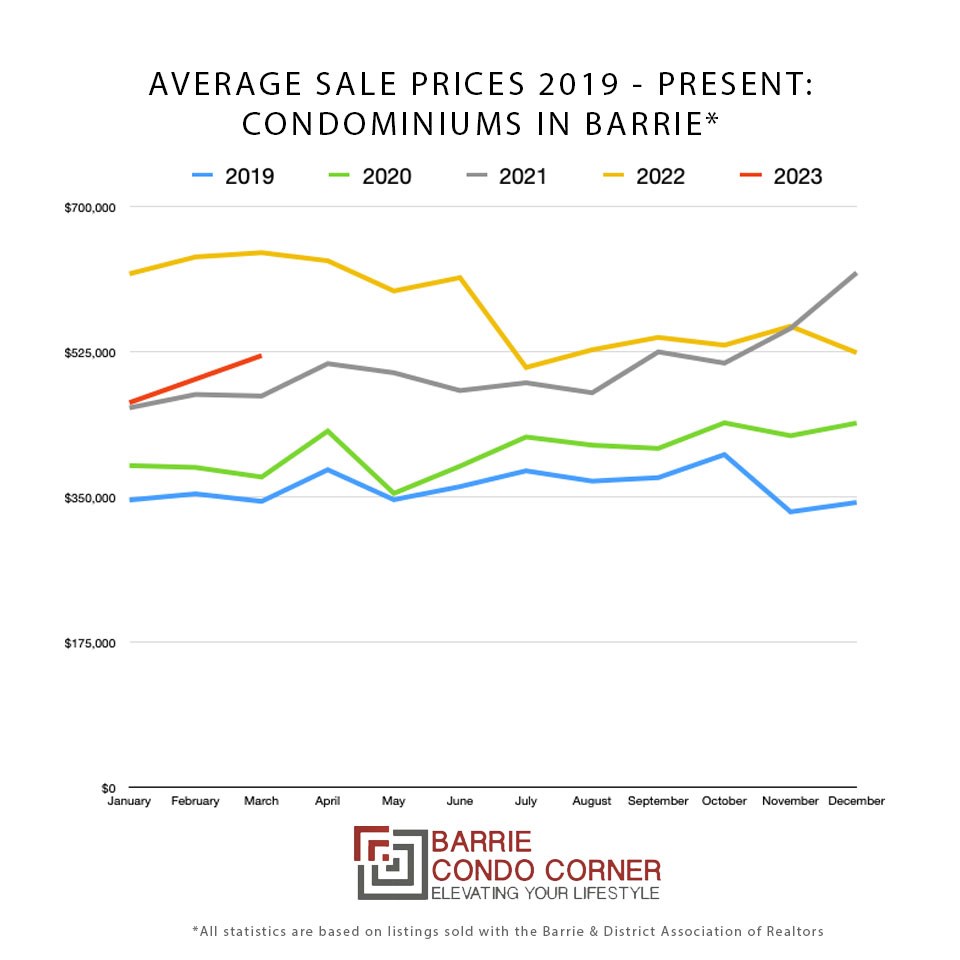 If you are looking to sell this spring, make sure to look closely at what is currently on the market. There is not much urgency from buyers right now, so if you would like to sell within a couple of months, it is important that your condo is priced competitively and presents like a model home.
If you are looking to purchase this spring, make sure you get pre-approved before starting your search so you are looking well within your budget. When it comes to signing an offer, get as educated as possible on the various conditions you can put in your offer to protect you as a buyer.
The condo market is much different from the freehold market, so working with a full-time Realtor who can educate you on the various condominiums in Barrie and what goes along with condo living is important.
There are currently a total of 97 condominiums for sale in Barrie — 80 condo apartments and 17 condo townhouses.
* All stats are based on listings sold with the Barrie & District Association of Realtors under the Matrix System.