"Food is everything we are. It's an extension of nationalist feeling, ethnic feeling, your personal history, your province, your region, your tribe, your grandma. It's inseparable from those from the get-go." — Anthony Bourdain
It's no surprise that I love food.
Amazing food and unique food cultures have always intrigued me. There is nothing I love more than to discover a new flavour, a new dish or a new way of cooking.
Like a studying a waving flag or understanding the roots of a language, food is one of the key aspects to understanding culture. When looking to understand a people and their history, you could scour libraries or study history books.
But there is still a bigger story not found in those dusty old tomes, instead the most interesting morsels of knowledge can be found on the dinner table. Through ingredients, tastes, smells, and coloir, we can learn tales of struggle, love, pride, and passion.
It is through the world's dinner plates that we broaden our understanding of different cultures.
It was with this in mind that I took the opportunity to get a taste of our own Barrie Latin community and explore the sights and sounds of Carnival Barrie Latin Festival.
Starting on Saturday, Sept. 2 and running over two days, the Will Dwyer Memorial Park on the Barrie waterfront became home to the festival. It was a wonderful celebration of all our local Latin cultures.
Through authentic displays of music, dance, food, and culture, the event highlighted the people and countries represented in our community with a positive and sharing spirit.
The goal of the team organizing the festival was to bring an exciting experience that created awareness and appreciation to the variety and uniqueness of Latin culture. I think that have done just that and in doing so have given us a flagship event that celebrates our great city.
Working at Georgian College I have had the opportunity to get different perspectives and to experience many of our world's cultures firsthand. Our campus hosts students from 86 countries speaking more than 52 languages. Through our international Center students come to our community to study English, to gain the knowledge and experience that comes with a diploma, degree or certificate and to ultimately land a great job on the path to a successful career.
These students are an amazing resource for our college community. They give us a chance to learn and understand who they are and where they come from. I was lucky enough to be able to tap into some of that insight and experience the Latin festival through the eyes of one of our Latin International students.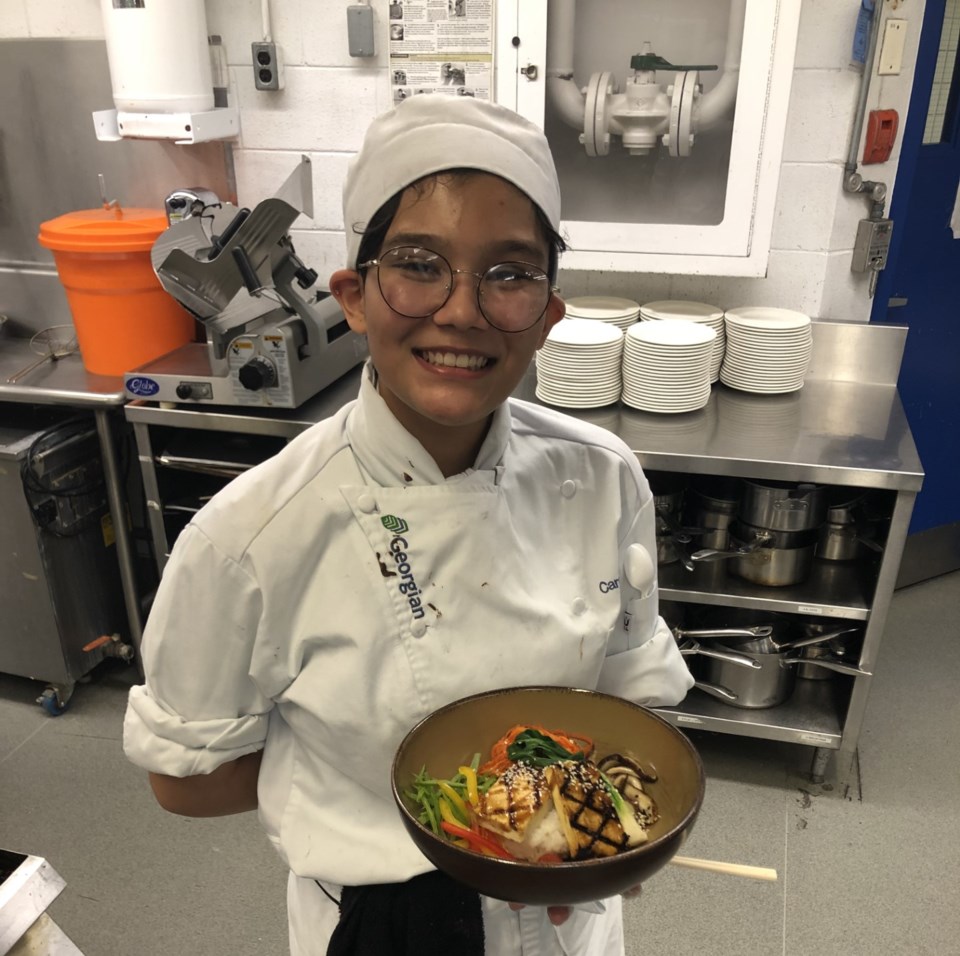 I would like to share with you their experiences of Carnival Barrie:
"Hola, My name is Carolina Dixon and I'm an international student from Panamá, a country mainly known for the Panamá Canal. While growing up in a Central American country, I was able to experience a rich culture not only from my country, but also from other people that came from different countries in Latin America.
My parents always incited me to be curious, not limit myself because of obstacles and learn as much as I could, the main way being through food as it was a way to show your care and love for others. I'm going through my second year in culinary management in Georgian College and I'm excited to continue developing both my skills and knowledge as I start to apply it in a professional environment.
I attended the Carnival Barrie, which was held in the Barrie waterfront. This event focused on the various Latin American countries and presented different traditional costumes, music and an arrangement of traditional (and really tasty) food.
Although my main purpose was to go and try the different food stands, I was looking forward to interacting with more Latin people and see the representation of the culture through the lively music, colourful costumes and captivating dances. Being able to be surrounded by the sound of Spanish and meeting people from a familiar culture made it feel just a little bit more like home.
I saw a representation of the traditional dance of Peru called La Marinera, presented by Hermanos Cordoba, and a beautiful presentation of Colombian folklore called Yambeque, in which traditional dances were displayed and a singer recited the song called Toitico Bien Empacao. Finally, I had the chance to see a short presentation of Candombe, a type of Uruguayan music and dance.
I was able to learn about the different food stands in the fair. Starting with Steaks Barrels who, having more experience with Smoking Barrels and one year as a restaurant, explained the process of importing smoking barrels for meats directly from Colombia and the way they cook and prepare their delicious chicharrones.
Eddy's Latin Bakery which I've gotten into a routine of going to their small bakery for their empanadas, almojábanas and a familiar atmosphere that makes me feel like home.
The Mexican House which is a family run restaurant by a graduated student right from Georgian College and specializes in delivering authentic Mexican food and a friendly atmosphere.
Quesada which started as a Toronto-based, small restaurant before moving to Barrie and they specializes in Tex-Mex, a cuisine created by Tejanos in Texas and is a mix of both Mexican and Texan food.
The Best Chicha, which is run by two Venezuelans in Toronto, and they focus on preparing a delicious and refreshing chicha which is made with rice, pasta, coconut shavings, Nutella and condensed milk. (That's the way I had it and it was the perfect touch after walking for so long!)
Welas Kitchen, whom I've seen various times in the Barrie farmers' market and is my go to for churros, were there preparing Argentinian empanadas, barbecuing sausages and, of course, selling their amazing churros, I was even able to chat a little with the face behind the name!
And finally, ending my day with a good paleta/popsicle from Polar Tropical, who specializes in fresh made juices and an arrangement of tropical flavours in their popsicles that will make you feel refreshed after a long day of dancing and eating.
Knowing that there's a presence of the Latin American community has made me feel comforted and more confident of my future as an aspiring chef with Panamanian origin. This festival has not only helped me feel proud of my culture and language but also to know that there's a community where I feel I belong. As I take this journey, every step feels less lonely and its reassuring me that there's a community here that I can share this experience with."
Since foods represent our cultures, they ultimately become a large part of our identities. Recipes are passed down through generations, the tastes, smells and sights of meals connect us with our ancestral heritage. As humans travel, emigrate and live far from their homeland, this sentiment becomes particularly important.
Food is a symbol of cultural expression; it reflects all aspects of human nature. It's an amazing journey to understand culture through cuisine and discover what's on the world's dinner plates.
I'm looking forward to next year's carnival and to helping Carolina on her journey into the culinary world.
I hope that all of you take the opportunity to go out and experience some of the amazing cultures and cuisines right on our doorsteps.