Candice Makhan has spent nearly all of the past 15 months suffering from pains, breathing difficulties, fatigue, vision problems and lingering bouts of anxiety and depression.
She is a COVID-19 long-hauler, which is someone who was infected with the virus, or suspects they were infected and have developed symptoms that have persisted for months.
Candice began experiencing unusual symptoms in March 2020, before the lockdown and before widespread coronavirus testing was available. Days before the symptoms started, she had attended two wine events with people who had recently travelled overseas.
Her initial symptoms were mild heart palpitations, pink-eye and headaches, but they went away. Then, two and half months later the symptoms came back with a vengeance. At times she struggled just to catch her breath.
"I knew that I was breathing, but I couldn't get a satisfying breath," said Candice. "I almost felt like I was underwater. I felt like I was suffocating, I was breathing, but I was suffocating."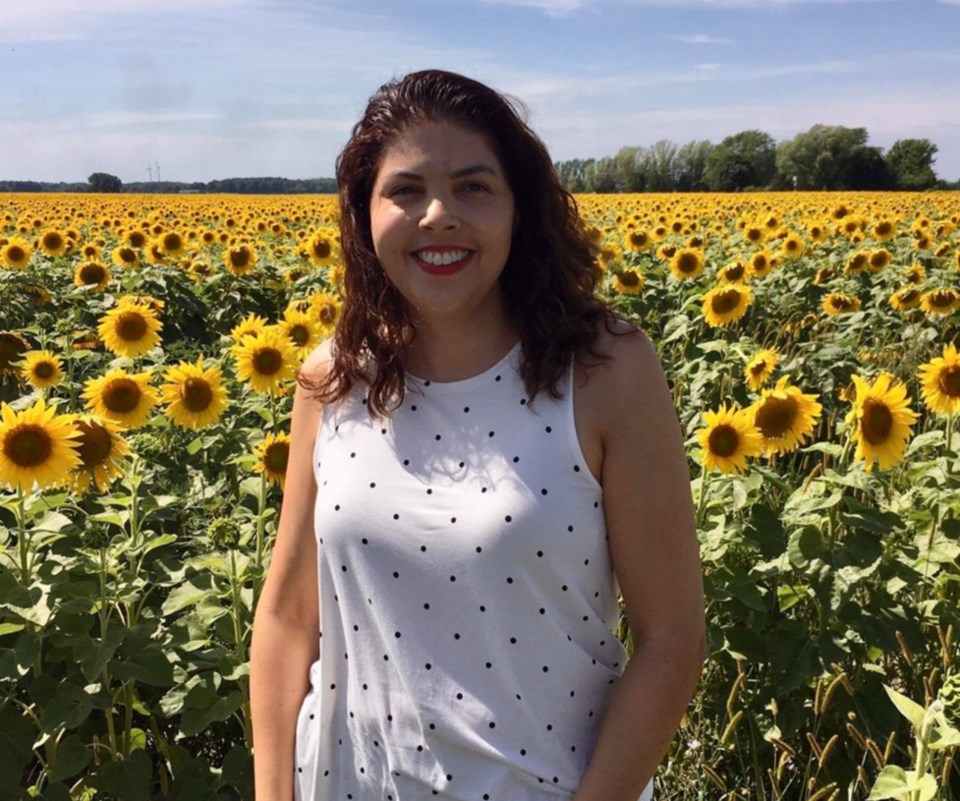 COVID-19 long-hauler, Candice Makhan (pictured) has spent most of the past 15 months suffering from chest pains, breathing difficulties, acute fatigue, vision problems and lingering bouts of depression and anxiety.
Candice can breathe easier now, but the fatigue she suffers is crippling. She said, "I spend most of the day in bed. I just get up to have meals and to shower, otherwise, I'm in bed most of the day."
With her doctor's letters of support, Candice applied for short-term disability leave. And even though she had a slew of tests, her claim was denied because she had no confirmed diagnosis. The post-COVID symptoms experienced by long-haulers don't always show up on an X-ray or MRI.
Candice was shocked by her disability insurance provider's denial. She assumed her employer's insurance company would take care of her.
She appealed the denial twice on her own and lost each time. In December, Candice's employer asked her to return to work. With persistent chest pains and debilitating fatigue, going back to work was not possible.
---
---
She initially hired an employment lawyer to fight this battle and then she was referred to a disability lawyer. When the disability lawyer threatened to file a lawsuit, the insurance company paid the back payments that she was owed and started paying her monthly benefits. The back payments equalled what she had already paid the two lawyers.
Last month, Candice received her first monthly benefit payment. But she is being hounded by the insurance company for information she believes they want to use against her to stop the payments.
If she has one piece of advice for people suffering through long-COVID and waging a similar battle with their insurance companies for long-term benefits, Candice said, "I think I would have saved myself a lot of stress if I had reached out to an expert."
Samantha Share, a lawyer and assistant managing director at Share Lawyers couldn't agree more with Candice. Share Lawyers is a firm that specializes in long-term disability claims.
Share asks, "Why would you go to a general lawyer or a personal injury lawyer who dabbles in long-term disability benefit claims when you could go to somebody who specializes and devotes themselves to disability cases?"
She said insurance companies will do everything in their power to deny a claim. If estimates that up to 30% of COVID sufferers may be long-haulers are correct, there could be a surge in long-hauler claims, making the disability insurance companies even more tight-fisted.
That's where having the right disability lawyer becomes essential.
Share Lawyers has battled the major disability insurance players thousands of times. They have a proven track record of negotiating outstanding settlements for their clients. They invite you to look at their client reviews.
Samantha Share advises, "A question for a client to ask is, how many claims have you handled against this insurance company. If it's not in the hundreds, or if the answer is 'a few' or 'some', you might want to reconsider that firm."
Share Lawyers isn't intimidated at the prospect of facing off with Sunlife, Manulife, RBC or any of the other major players in the industry. Their first move will be to file a lawsuit.
Share points out, "If you don't file a lawsuit, the likelihood of the insurance company negotiating with you is very low and many law firms waste a lot of time with appeals that have little or no chance of success."
Long-term disability claimants may feel isolated and alone. They can't work, their money is running out and their confidence has hit rock bottom.
Samantha Share said, "What sets us apart from the competition is that there is a team of lawyers working on your case. We're supporting the person in their time of need, not just their legal needs, but the whole person."
Share said, "We are wrapping our client in support. We're not just helping them with their disability claim. We're supporting them in their whole life, to rebuild their life, to get back to work or a new normal. The process going forward epitomizes our tag line, 'Your Life, Rebuilt".
What can you do if you have a denied disability claim in Barrie?
If your life has been disrupted by an unexpected illness, creating an emotional, physical and financial burden, the first step you should take is to consult a disability lawyer. Share Lawyers offers free online consultations for long-term disability insurance claims.
There are also simple, free online tools to assess whether or not you have a disability case and if an experienced lawyer can assist you with your insurance claim.
And if you're reluctant to contact a lawyer about your long term disability claim out of fear of being charged more than you can afford, Share Lawyers work on a No Fees Unless You Win Your Case basis.
Why wait to see if you have a valid long-term disability case or accept that your insurance claim has been denied? Book your free consultation.