Just after midnight on Sept. 6, Barrie police responded to a call on Dunlop Street West and found a stolen vehicle had smashed through the front window of Shroomyz, a psilocybin dispensary shop that police allege has been operating illegally downtown.
No charges have been laid in either the crash or the operation of the business, however.
Shroomyz bills itself as a "medical mushroom" dispensary, which sells its product both online and in store.
Often referred to as magic mushrooms, psilocybin contains hallucinogens. The production, sale and possession of the mushrooms are illegal in Canada.
On Tuesday, Oct. 10, Barrie police communications co-ordinator Peter Leon said investigators are aware of the downtown business and were monitoring the situation.
"We are dealing with it through investigative means," he told BarrieToday. "Right now, our investigation does remain ongoing, as does the investigation into the stolen vehicle that was used to break in."
As of this week, Shroomyz remained open.
The owners started the business just three weeks before the crash took place. On Thursday, Oct. 5, BarrieToday was invited into the shop to discuss their current situation.
The manager behind the counter, a woman who identified herself as Stax, wanted customers to know, through the media, they are open to the public despite the front of the building still being boarded up following last month's crash. They are currently using a rear access door to let customers in.
Only the rear of the shop is being used for retail, as damage to the front caused the business to hastily construct a temporary counter, said Stax, along with shelving for its psilocybin products.
When asked about the collision into the front of the store, she said she doesn't know who is responsible or the motive behind it.
Nothing was stolen, she said, but "police seized all our stock along with an ATM machine, previous to a warrant," she claims.
"They should not worry about people trying to get medicinal (products) for their own benefit, and they should pay attention to the people shooting up in the alleys, the things they can actually make a difference in," Stax added.
When asked if police had visited the store prior to or since the crash, she said "not that I know of." If they had, she says they would likely have been undercover officers.
"We are like the cannabis dispensaries, pre-decriminalization," she said. "We are here specifically for medicinal (purposes)."
Stax also commented on the store's clientele.
"I'm not going to count out that we get the college and university students and people who are looking to have fun, but we have everyone that comes in here fill out a medical waiver, and I check ID every time," she said.
She also said that is store policy.
Midway through the interview, a door buzzer sounds and she lets in a pair of customers, as the door is always locked.
"So, three things," she says to them. "Medical waiver needs to be filled, ID has to be shown and we do take cash."
One of the customers approaches the counter.
"Can I get 14 grams of the Flying Saucers?" he asks, while looking up at a board on the wall that is similar to a restaurant menu.
Meanwhile, his female companion begins to fill out a waiver using an iPad on the counter.
"What happens is we take your name, phone number and your date of birth. We put that in and it makes you a member of our family," Stax says. "It's like a Costco membership."
Stax also explains to them the store has a loyalty program where every dollar spent gets them one point. Once they collect 250 points, they get $15 off the next purchase.
The man, who identifies himself to BarrieToday as Jesse, appears to be in his 30s. He agrees to speak to a reporter during his visit to the shop.
"I eat mushrooms constantly, probably more than most people — like, literally all the time," he said with a laugh. "I just feel better."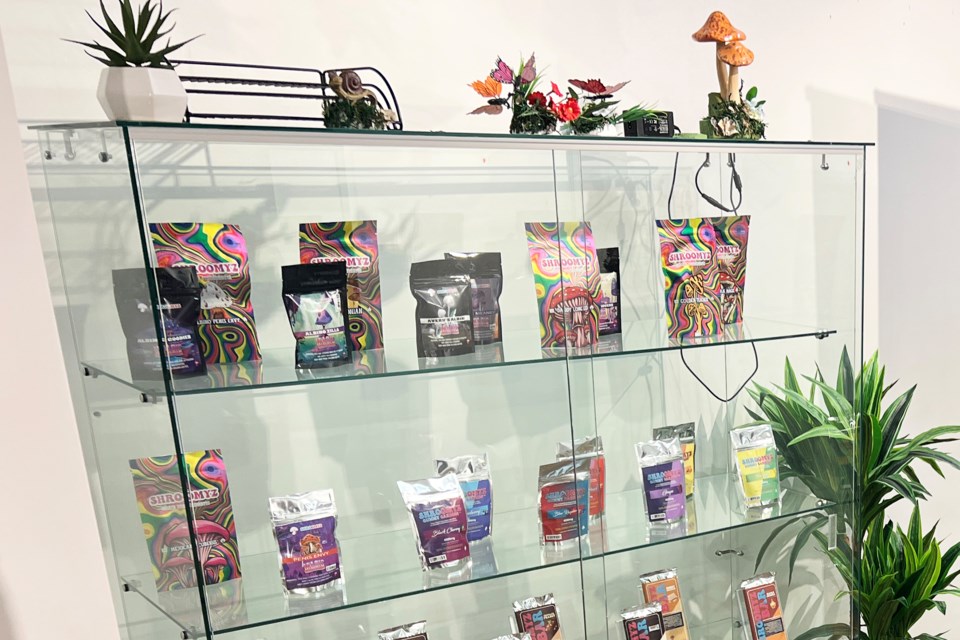 When asked if he had any underlying medical condition that would make him want to consume psilocybin, he said, "No, probably because I do mushrooms all the time. I've been doing them since I was 15 years old. I don't see a down side to it. I've never had a bad time.
"And I'm pretty excited that I can now just go to the store and buy them," Jesse added. "You've never done mushrooms? You should."
The woman with Jesse, who looks about the same age, says she wants to try the Hawaiian Magic or the chocolate bars that are infused with magic mushrooms.
"I just want a low dose to feel, like, happy," she tells Stax.
The manager explains Hawaiian Magic to her: "It's that beach feel, when you hang out with friends and you just want to laugh your face off. It's a huge seller."
"Yeah. I just want seven grams of that, please," the woman said.
"Honestly, I'm pretty new to it," she added. "I did a lot when I was in high school, and then I just kind of didn't do anything for a long time."
She then turns to the reporter and offers her previous experience.
"Instead of getting blackout drunk, I'll have a couple of drinks and take a little bit of shrooms. I get the same effect; I'm just not hung over in the morning," the woman said.
Jesse then pipes in with his own observations.
"I don't eat edible weed, as I believe it gets me too high," he said.
After spending more than $130, they leave the shop with their mushrooms.
During a typical week, Stax said the business serves about 50 to 60 customers. She said all of the psilocybin products are imported from British Columbia.
Most are neatly and colourfully packaged in factory-sealed pouches or containers displayed in a glass case along a wall.
But how does a business that openly sells products that are illegal, and even advertises itself with a neon sign outside, operate?
"This is not a business classification that requires a City of Barrie business licence. This would be a matter for police," said Scott LaMantia, the city's manager of marketing and communications. "We can't issue a licence for an illegal activity like that."
Paul Lewin, a Toronto lawyer who focuses on issues related to cannabis and psychedelics, works with clients who own mushroom dispensaries and is currently working on a constitutional challenge in the courts.
"We're challenging the constitutionality of the prohibition itself, under freedom of thought," he told BarrieToday. "There is tons of peer-reviewed science that talks about how (psilocybin) makes people more mindful, more focused, more creative, more compassionate, more empathetic, ego dissolution, and people feeling more grounded, less depressed, less anxiety.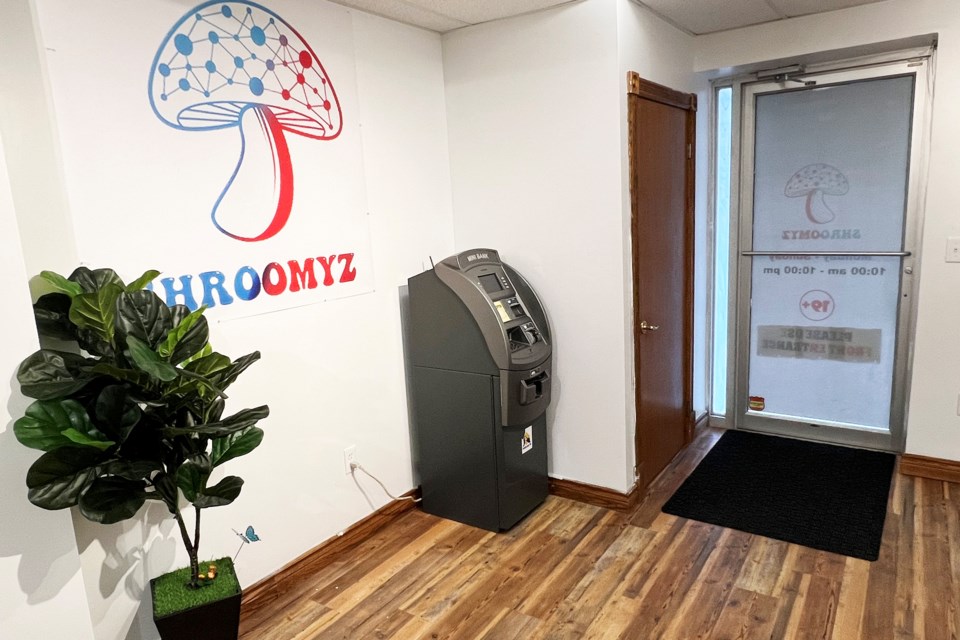 "And there are lots of good things for healthy people. I'm not talking about medical use; I'm just talking about use for healthy people, for whom it makes healthy people live a better life."
Lewin explained he believes psilocybin is a freedom of thought tool, and freedom of thought is in the Canadian Charter of Rights and Freedoms.
"It has never been properly litigated in Canada. It's really the most important of all rights," he said. "We have nothing without thought, freedom of expression, freedom of religion."
So, why does he think mushroom dispensaries don't appear to be a higher priority for police in Canada?
"Police obviously have limited budgets and they have to form priorities, and a store selling this drug, that is not addictive and no one has ever overdosed on, and in fact does a lot of good and helps people in many ways, that's a pretty low priority when there's this laundry list of terrible things in society, all the awful things in Barrie and every other community in Ontario," he said.
"It just seems to me that everybody's got depression and anxiety issues. I don't know anybody who is seriously ill, but, shoot, I sure have those issues at times. Not all the time, but sometimes. I don't know who doesn't. I shouldn't have to declare myself seriously ill (to be able to access psilocybin). I would just like to be better."
Nicolas Pope, a human rights lawyer in Ottawa, has also taken up the psilocybin fight in recent years as it pertains to the federal government and its laws.
"They have their rules, and their rules are binding the decision makers at the lower levels," he told BarrieToday.
Pope says upper levels of government need to put in place a better system.
"The decision maker is a pharmacist with Health Canada," he said.
"I suppose they don't understand they have to follow the Charter over and above any of their internal policies. There's a hierarchy of laws and regulations, where internal policies are the lowest, then regulations, then legislation, and then the Charter, above all things. And the Charter … says people have the right to make reasonable medical choices."
While Pope says some doctors have stated publicly this is a reasonable medical choice, he believes people have the right to use psilocybin without government interference.
"If something, even a controlled substance, is safe and has no safety risks, and there is evidence to believe it improves health, then the government must grant an exemption to allow it. So, under the Charter, it's a bit of an open-and-shut case. The exemption needs to be granted," he said.
"But the bureaucrats are following their internal policy instead of the Charter."
According to a Government of Canada web page, research around psilocybin use continues to grow.
"There is increasing interest in the potential therapeutic uses of magic mushrooms and of psilocybin, one of the active ingredients in magic mushrooms," states the web page. "While clinical trials with psilocybin have shown promising results, at this time there are no approved therapeutic products containing psilocybin in Canada or elsewhere."
The federal government says clinical trials are the "most appropriate and effective way to advance research with unapproved drugs such as psilocybin while protecting the health and safety of patients."