Nearly 95 years since her Olympic triumph, Fanny 'Bobbie' Rosenfeld is finally getting her day in Barrie.
On Wednesday, Mayor Alex Nuttall proclaimed Aug. 30 as Bobbie Rosenfeld Day.
"It's not just a piece of Barrie's history, but a piece of Canadian history and Jewish-Canadian history as well," Nuttall said.
"This is a big honour for the Jewish community," said Jeff Wellman, president of the Am Shalom Congregation. "Bobbie represents 100 years of the Jewish community here in Barrie. She grew up on this street right here, on Collier Street."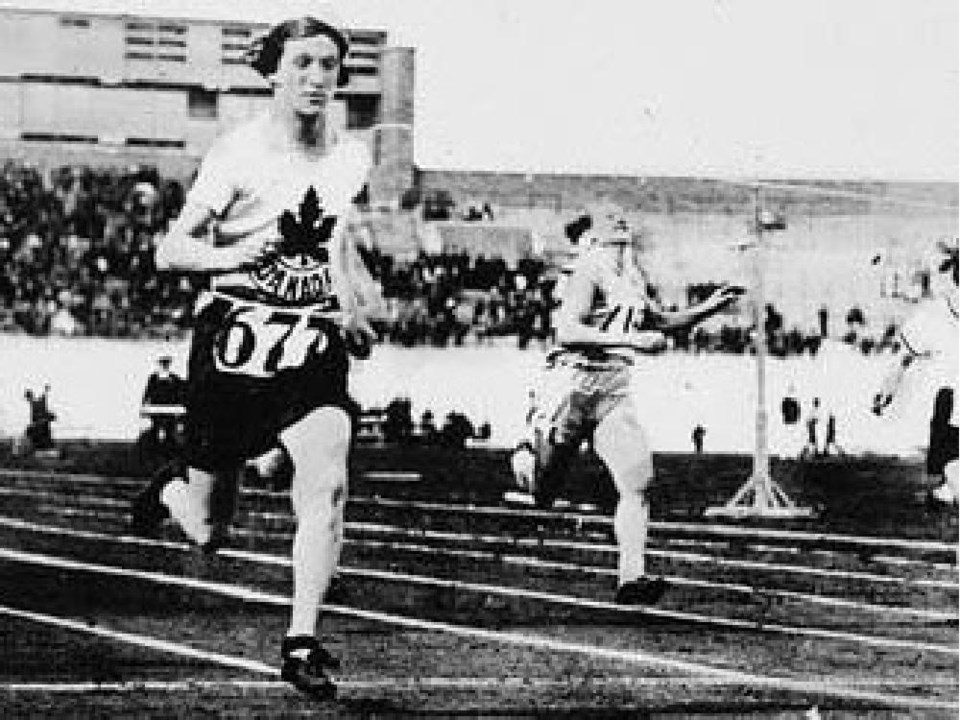 Rosenfeld (1904-1969), a member of the first-ever Canadian women's Olympic team, was among the first inductees into the Barrie Sports Hall of Fame in 1985, along with Red Storey and Hap Emms.
She is also honoured in Barrie with an Ontario Historical Plaque, in front of Allandale Recreation Centre, and Rosenfeld Drive, in the city's east end, north of Grove Street East.
At the 1928 Amsterdam Summer Olympics in the Netherlands, the first which allowed women to compete, Rosenfeld was a member of the Canadian gold medal 4x100-metre relay team, which also included Ethel Smith, Jane Bell and Myrtle Cook.
Individually, Rosenfeld won the silver medal in the 100-m race in Amsterdam.
She was also a star athlete in basketball, hockey, softball and tennis, while holding several long-standing Canadian track and field records, and at one point the world record for the 100-m.
Arthritis ended Rosenfeld's athletic career in 1933, and she became a prominent Toronto sports columnist.
In 1949, Rosenfeld, who was called Bobbie for her 'bobbed' haircut, was chosen Canada's outstanding female athlete of the half-century by a Canadian Press poll.
She was later elected to the Canadian Sports Hall of Fame, the only female all-around athlete to be so honoured, and in 1981 was posthumously elected to the International Jewish Sports Hall of Fame.
"She's a role model to our youth," said Wellman. "You can tell your children that if you work hard, you can not only be successful, but you can contribute to the community and to your nation as well, as Bobbie did.
"She is a symbol of resiliency because she overcame a lot of medical problems and still was competing towards the end," he added. "She was a woman in the 1920s when you had set roles of which you had to follow, but she decided to go on her own path for her own future and her own happiness."
Rosenfeld was born Dec. 28, 1904 in the town of Katrinaslov, Russia — which is now Dnipro, Ukraine. When she was an infant, she immigrated to Barrie with her parents, Max and Sarah Rosenfeld, and her older brother, Maurice. As a youth, Rosenfeld attended Victoria Public School and Barrie Collegiate Institute.
Aug. 30 was chosen Bobbie Rosenfeld Day in part to correspond with the first performance of Theatre by the Bay's upcoming production of Bobbie, written by local playwright Trudee Romanek and directed by Lynn Weintraub. It is presented by the Am Shalom Congregation.
Bobbie will play Aug. 30 until Sept. 10 at Five Points Theatre, located at 1 Dunlop St. W., in downtown Barrie.
"Bobbie Rosenfeld has been an incredible figure in our community for more than a century now and we are honoured to honour her with this day … forever," said Iain Moggach, artistic director of Theatre by the Bay.
For more information about the production, visit theatrebythebay.com/bobbie.