When the Triton Music ensemble took their place on stage at the 21st annual Ontario Band Association's (OBA) Provincial Band Festival, on Feb. 13, the teenagers — who would ultimately make Nantyr Shores Secondary School and the Town of Innisfil proud — appreciated how far they had come before a note was played.
A unique generation, the Triton Music ensemble consists of approximately 40 teens aged 14 to 18 who spent time away from their loved ones, friends, teachers, and peers as the COVID-19 pandemic swept the globe.
From lockdowns and uncertainty, to online classes, and instrument masks (yes, that's a thing), the students who had only been playing together in person for one year (and some even less) sat with instruments at the ready.
At the direction of their music teacher, Danny Vaz, they took a collective breath and began to play.
Music may be subjective, but according to the adjudicators, their performance was not; the Triton Music ensemble's performance earned the coveted Silver+ award, in addition to an official invite to the 51st annual MusicFest Nationals, which will take place in Niagara Falls in May.
They are the first high school band from Innisfil to compete at the OBA Provincial Band Festival and the first to be invited to the Nationals.
"I wasn't even planning on taking music until Vaz had a Google meet with my Grade 8 class," said Grade 10 student and clarinetist, Bria Saric.
"I got to see how enthusiastic he was and figured it would be a fun class to take. It wasn't until my first time in class with Vaz that I realized it was going to be next level," she explained.
"The things I've accomplished on my own, and what we've accomplished as a program are easily the biggest accomplishments of my life.
"I never expected any high school program to have such a positive impact on my life," she added. "I felt so insanely lucky to be a part of something so awesome with such amazing people and someone so legendary leading us."
It's common for the 121 bands who performed at the OBA to be familiar with one another. As it was the first time for the Triton Music ensemble to play at the OBA, students and their teacher alike were asked, "Where are you from?" which was quickly followed by, "Where's Innisfil?"
Praised by OBA adjudicators, and awarded a Silver + rating with an invitation to the MusicFest Nationals, when it comes to the music community, the Triton Music ensemble has put Innisfil on the map.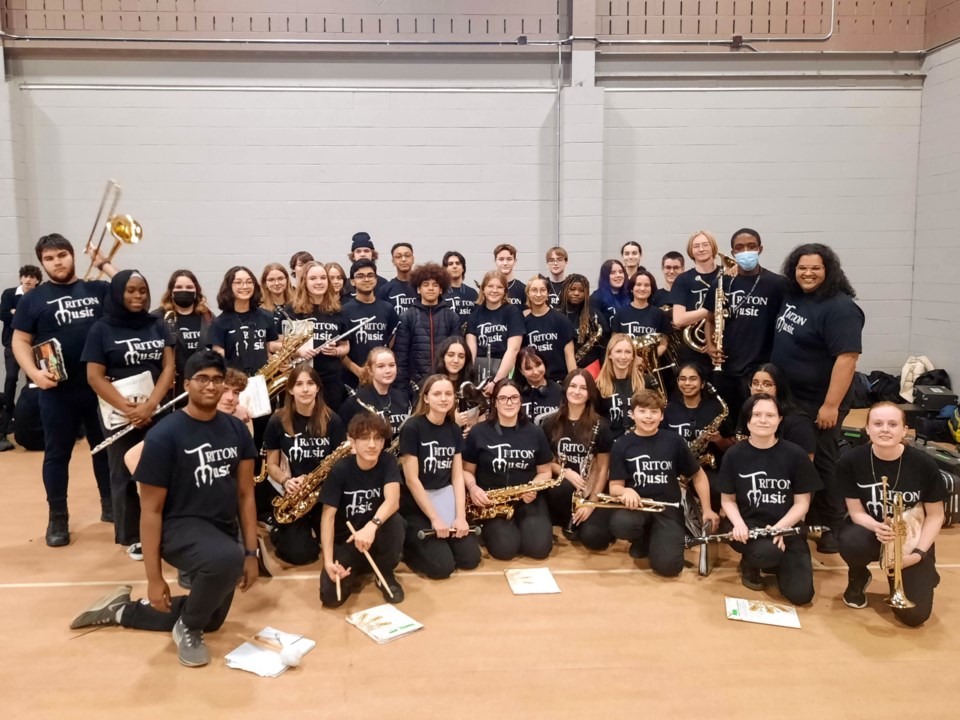 "We offer our congratulations to the Triton Music ensemble and the dedicated staff from Nantyr Shores Secondary School who were awarded a Silver+ rating at the recent Ontario Band Association's (OBA) Provincial Band Festival," said Innisfil Mayor Lynn Dollin.
"This is a remarkable achievement and speaks volumes to the commitment of the students and staff involved."
Nantyr Shores Secondary School Principal Mark Keating agreed.
"Our entire Nantyr school community is so very proud of the accomplishments of our music program. The students have worked very hard for this and Danny Vaz (the music teacher) and Kaleigh Potts (a Phys. Ed. & Leadership teacher), our teacher representatives, are to be commended for the time and commitment. This resurgence in the Nantyr Shores music program is very exciting," said Keating.
Though the OBA provides ensembles with their adjudication letter immediately following their performance, Vaz waited to open it until the Triton Music ensemble was together.
"A few days after OBA, we opened our adjudication letter. The feeling after finding out that we got a Silver+ rating and got invited to Nationals after all the hard work is something I will forever remember, it did not leave me all day," explained Grade 10 student and tenor saxophonist, Anastasia Anderson.
"I'm glad I decided to take music, I never would have expected us to come this far. I'm excited to see the places we can go as a band," said Anderson.
But the excitement wasn't over. At the OBA's Directors' Social, the Triton Music ensemble was awarded the Rising Star Award, the Spirit of the Festival Award and the Director's BBS Scholarship on Feb. 16, 2023.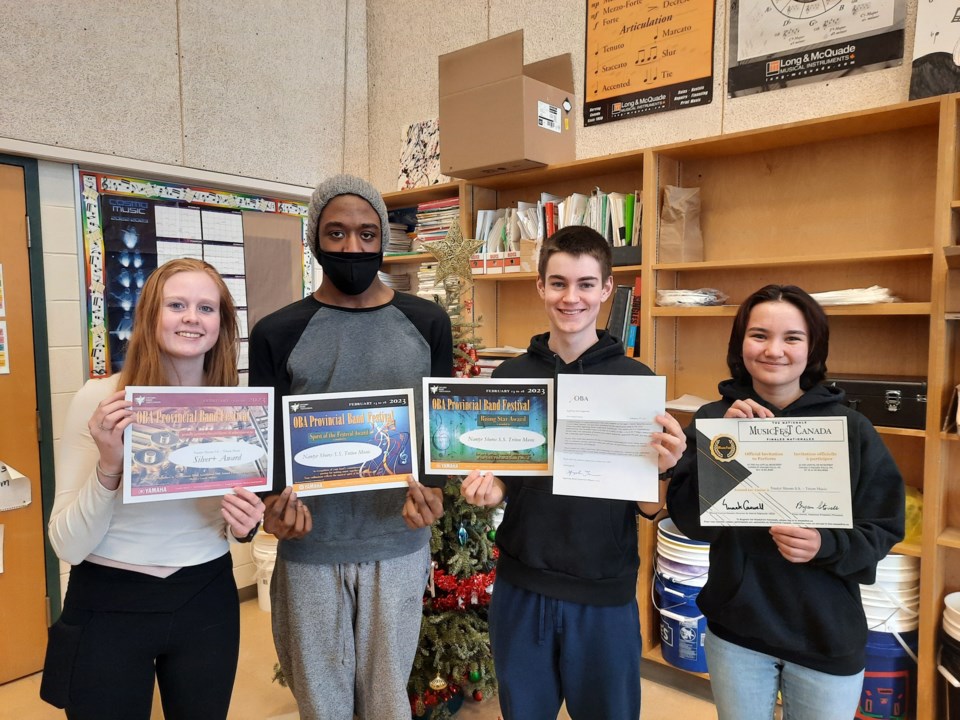 "Before seeing our adjudication, we already knew we had started something special, but hearing it officially was a completely different feeling," said Grade 11 trumpet player, Matthew Gabbidon.
"Personally, I hope everything we accomplish improves the representation of the arts in schools. I hope this makes people realize how important the arts, especially music, are to the students and the community," said Gabbidon.
When asked about the importance of music education, Vaz told InnisfilToday, "To myself and the program we're building, music education and equitable access to it is essential to developing the whole person.
"We've seen firsthand the impact being involved in music has had on our program — not just on the many academic levels, but on the emotional and well-being side. It grows the full person. Music education, the experiences and community from it builds that, and we're striving to develop a culture and tradition of that here in Innisfil," said Vaz.
After completing his education at Ryerson and York Universities in Toronto, Vaz travelled to the United Kingdom to teach before moving back to Canada. He accepted his role as Triton music director and music teacher at Nantyr Shores Secondary School in 2020.
He told InnisfilToday that when they couldn't play in class because of COVID-19 restrictions, they played bucket drums and he taught music technique, theory, and analysis.
Though they were in person in December 2020, he had a "bad feeling" prior to the winter holidays, so his students took their instruments home. In January 2021, music students started playing and learning via video calls. It wasn't until February 2022 that students were playing in person in class every day.
"During the second semester of the 2020-21 school year, I attended classes online while my peers received in-person instruction. Despite the physical distance, Mr. Vaz and the rest of the in-person class created an inclusive and engaging learning environment, which made me feel like an integral part of the classroom community," said Grade 12 soprano saxophonist, Romar Smith.
Despite all of the challenges, interest in the Nantyr Shores Secondary School's music program has grown exponentially. In addition to the approximately 40 students in the extracurricular ensemble, enrolment in the music program has grown from 22 students (99% of whom had not had the benefit of prior music education) in 2020 to approximately 130 students in September 2022.
"Last year I joined Triton Music thinking I would just mess around with an instrument and then drop it the next year. But now, a year later, I'm preparing to go to Nationals in Niagara Falls with my friends," said Grade 10 student, Brooklyn Hoegy, who plays the baritone saxophone.
Grade 12 student, Kyla Koch, who plays the alto saxophone, said, "Being in the program is a great opportunity to be a part of something that is bigger than just our school."
Holly Power agreed. The Grade 12 trumpet player said "It feels like the band is creating magic, having the whole room just filled with music, other people around go quiet because they can sense the importance, even if it's not relevant to their life."
Vaz enjoys the tight-knit community fostered in Innisfil. He said that he was touched when 260 parents, families, and members of the community braved a snowstorm to attend the Triton Music winter concert in December 2022 in a move that he noted was "very Innisfil."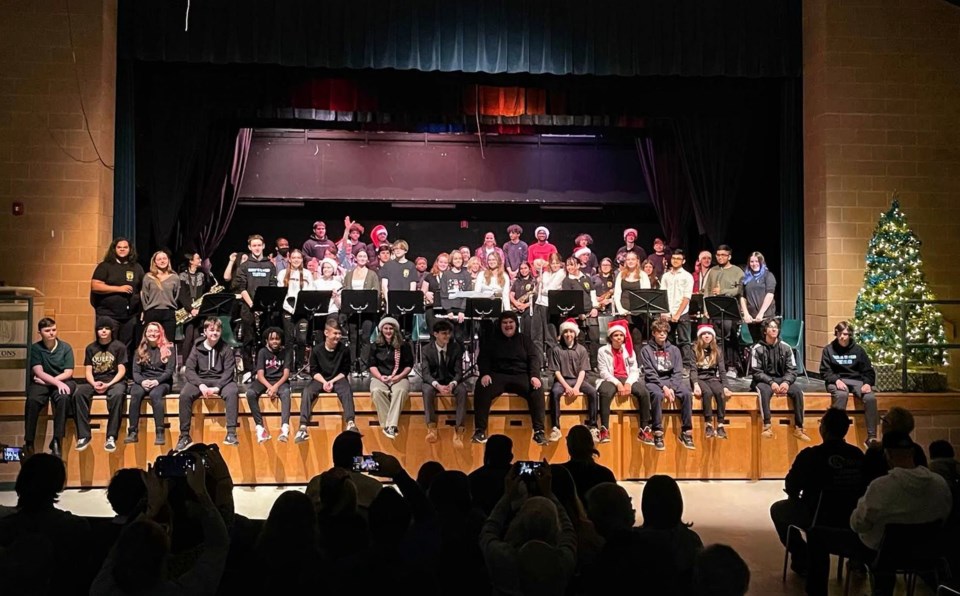 The widespread feeling of community within the Town of Innisfil extends to Nantyr Shores Secondary School, as in their answers to a series of questions asked by InnisfilToday, the themes of camaraderie and acceptance were refreshingly common.
"i have been a part of Triton Music for over a year now and I'm proud to call it a family of mine," said Grade 12 student, Mackenzie West, who plays bells/marimba and piano.
"It's a place of growth and introspection, a place where I'm not afraid to be myself; which can be a very difficult thing in high school. In the future, I hope to grow the program and show others the power of Triton Music and not Triton Music alone, but the power of music itself. This program is what gets me up every morning, without it, I wouldn't be the person I am today."
It's a sentiment echoed by Grade 11 student, Erik de Vries, who plays the euphonium.
"Triton Music has brought me a friend group I wouldn't have had otherwise, and a reason to show up when I felt like I had nothing at a new school," he said. "I am looking forward to our upcoming festivals. I am especially pumped for Nationals. It's an exciting opportunity to be able to share our music at such an important and fun event."
Not only are the students proud of themselves, they also celebrate each other's success.
"Watching the people that have made me better through their music every day get the recognition for all their beaming personalities and beautiful playing that they deserve is truly an amazing feeling," said Grade 12 pianist, Leah Wiseman.
"This band started with some of the now-Grade 12s, so it is truly everyone's creation," said Wiseman.
"When I joined the music program, I expected to not be able to keep up," Julia Vander Kooij said. "I'm a Grade 11 student who just decided to begin learning (the) flute, so I figured this program would be draining, but I joined nonetheless. As the program continued, I was constantly surrounded by talented and uplifting people who made me become a better player each day."
"Saying I'm proud of them seems like too cheap a word - I am far, far beyond proud," said Vaz.
The Triton Music ensemble will be performing at the Orillia Sunshine Festival on Wednesday, March 29, 2023, and the Barrie Music Festival on April 19, 2023. To support the Triton Music ensemble's journey to Niagara Falls for the MusicFest Nationals in May, please donate to them here.