The people will finally have their say tonight on city council measures to address chronic homelessness and enhance public safety in Barrie.
A public meeting will be held Tuesday night from 6 to 9 p.m. at community safety committee at Barrie City Hall, giving residents the opportunity to tell councillors how they feel about these controversial measures.
The so-called social action plan includes drug addiction, mental health, public safety, panhandling, shelter, counselling and feeding the hungry, along with housing the homeless, while committing as much as $825,000 to address these measures during each of the next two years.
These measures were approved by council May 17, by direct motion.
They resulted in a public protest outside Barrie City Hall, but no substantive change in council's approved motion.
That includes holding a public meeting on these measures.
Rev. Susan Eagle of Barrie's Grace United Church questions the meeting's value.
"The public consultation should have happened before (Barrie city council) passed the motion," she said. "And certainly they should have organized the consultation immediately after. I hope they are not waiting until after this 'delayed' consultation to do any planning for the winter. It would make winter support very precarious."
Eagle was a city councillor in London, Ont. for 13 years before moving to Barrie in 2010 and is a member of the Barrie Housing and Homelessness Justice Network (BHHJN).
"I will also be looking for the city's plan on how the allocated money is to be spent and what strategy the city is proposing," she said. "After all, this motion was passed in mid-May."
Rev. Christine Nayler, founder of Ryan's Hope and a member of Moms Stop the Harm, said she will be speaking at tonight's meeting.
"My focus will be to appeal to council's humanity and ask them to rethink this punitive motion that will harm our city's most vulnerable residents," she said. "I am hoping that seeing that the majority of Barrie residents are not in favour of such inhumane bylaws that seek to make kindness in our city illegal, council will not proceed with padding these bylaws.
"We are in the middle of a housing crisis. Housing is the answer to solving the issues council is trying to address," Nayler added. "Prevention, dollars spent on support services and housing costs far less than money spent on policing and actually gets to the root causes of the issues. So even looking at it from a dollars-and-cents lens, housing and support services are where council should be focusing money and efforts."
Nayler said she also questions whether the proposed measures conform with the Canadian Charter of Rights and Freedoms.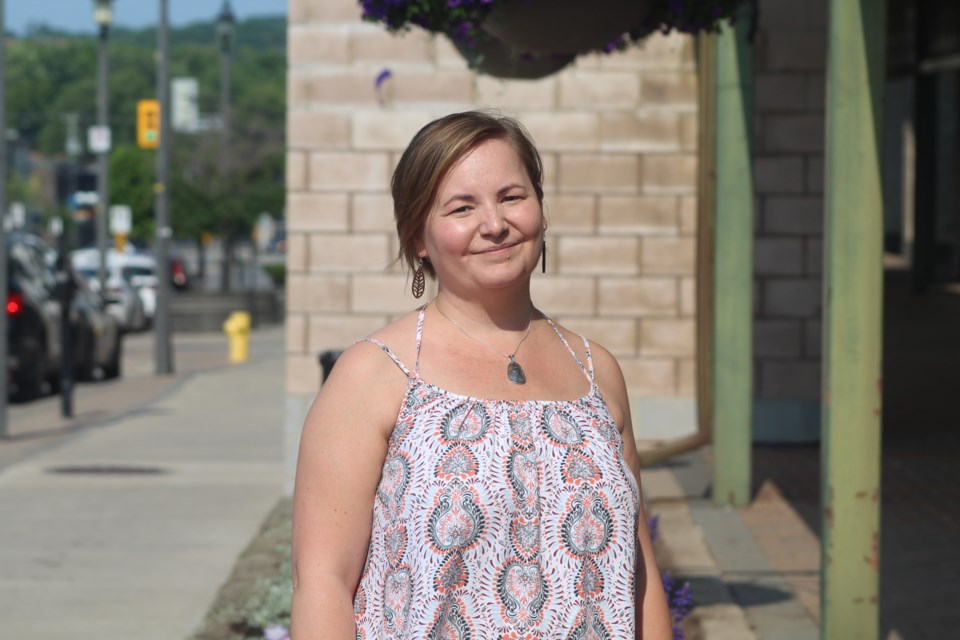 Jennifer van Gennip, also a BHHJN member, has registered to speak at the public meeting.
"There has been no new information shared by the city and no new proposed language for the bylaws that were referred back to staff in June," said van Gennip. "BHHJN's position is that a human-rights lens is required.
"I'll be interested to see what, if anything, is shared between now and Tuesday evening that could help the public engage meaningfully on the city's current thinking regarding homelessness," she added.
Dr. Valerie Grdisa, chief executive officer of the Canadian Mental Health Association's Simcoe County branch, said she expects one or two CMHA staff to be at the meeting and will be speaking to several of the recommendations.
Grdisa said she spoke with City of Barrie CAO Michael Prowse in July, along with other city and county representatives, about the "full range" of CMHA services and supports that are currently provided locally "that could be enhanced rather than introducing entirely new programs."
"For example, we have extensive community outreach services for people in crisis, people who use drugs and people experiencing homelessness," she added. "We also have a far-reaching food security program serving hundreds in the community and we house more than 300 individuals in dignified and safe housing. CMHA Simcoe County staff are already working collaboratively with other partners in the community, so the city should start here."
Following tonight's public meeting, Prowse will make a presentation to committee regarding the city's efforts to address chronic homelessness in Barrie.
"We are interested in listening to CAO Prowse's presentation and we hope that the recommendations have been revised to build upon the existing community capacity and strengths – to continue to advance community safety and well-being while responding to people in need," said Grdisa, noting CMHA Simcoe County is involved in more than 38 community partnerships where service providers are collaboratively addressing these issues.
"So I do hope that the mayor and council, with the CAO and city officials, have done their homework to ensure that they are listening to all and considering all voices and solutions," she added.
Since it was passed, council's measures to address chronic homelessness and enhance Barrie's public safety have been fluid.
In late June, council backed off on proposed changes to Barrie's parks use and nuisance bylaws for the homeless and hungry, after the city received a letter from the Busby Centre saying it would stop handing out food and supplies along Barrie's waterfront at the Spirit Catcher parking lot and instead move these outreach services to other property.
City staff were asked to clean up what's considered outdated language in the existing parks use and nuisance bylaws.
Council was considering amending the city's parks use bylaw so that a person shall not provide, at no charge, food, clothing, tents, tarps or items used as shelter or to assist with sleeping or protection from the elements to members of the public at any public park unless authorized to do so by the city. This was also to apply to Barrie's waterfront parks and off-leash dog parks, along with Memorial Square and Meridian Place.
Not everyone attending tonight's public meeting will have something to say.
"At this point, I will not be speaking. However, I will absolutely be there to support our partners who are speaking," said Sara Peddle, executive director of the Busby Centre.
The Busby Centre is a community not-for-profit organization which advocates for and improves conditions for individuals and families experiencing homelessness or at risk of being homeless within the County of Simcoe, including Barrie, and the southern Georgian Bay area.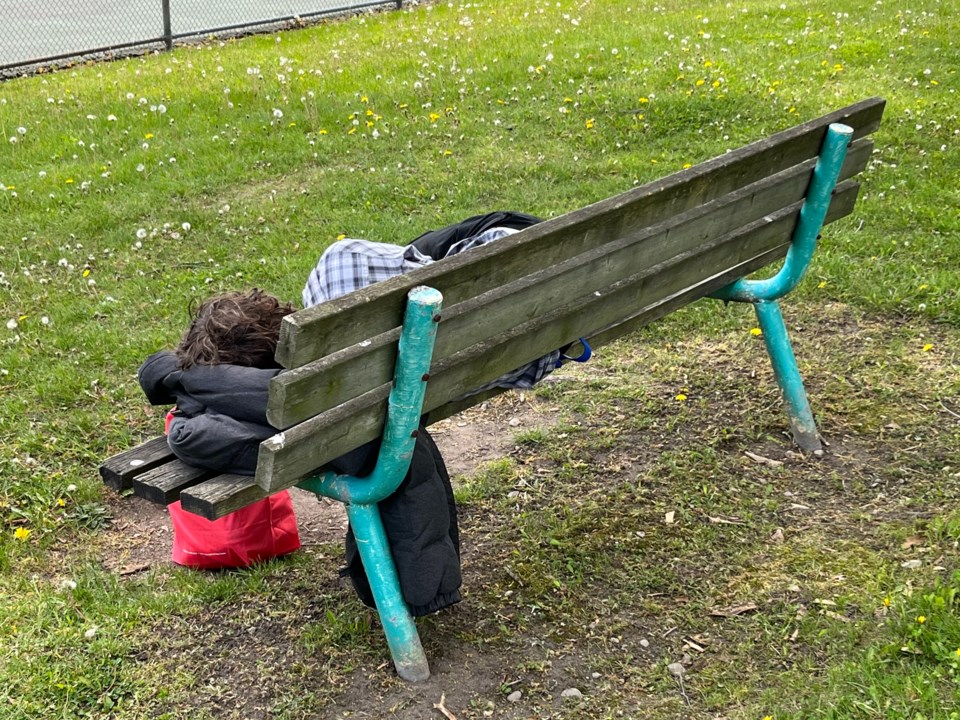 Some progress has been made to help the local homeless population since May 17.
In July, the Gilbert Centre was awarded the contract to operate a seasonal cooling centre in Barrie for homeless residents, the result of an equal partnership between the County of Simcoe and the City of Barrie. Located in the Barrie by the Bay building, at 80 Bradford St., Suite 525, it was scheduled to operate 8:30 a.m. to 4:30 p.m. daily until Sept. 15.
The county was also to make a call for proposals for a warming centre, for Barrie's colder weather.
Eagle said she has other concerns for plans to help the homeless.
"So I will be looking to hear from the city (tonight) about what plan it has to provide for people this winter," she said.
Mina Fayez-Bahgat, general manager of the County of Simcoe's social and community services division, said the county issued a request for proposals (RFP) for the provision of warming centres across Simcoe County on Aug. 22, 2023, with a final submission deadline of Sept. 7, 2023. The county has signed contracts for warming centres in Orillia and Bradford.
"We are currently in discussions with our community partner for the City of Barrie to ensure that winter warming remains available in the community for winter 2023-24," he said. "This will be part of our fulsome winter response plan to provide strong, stable supports for those in our community who are experiencing homelessness."
Fayez-Bahgat said this winter's response plan will be brought to county council on Oct. 10, 2023 for review and approval, where staff will outline a number of supports for the community that will be provided throughout the coldest months of the year.
Also in July, the city announced an agreement with Ontario's Ministry of the Solicitor General to use a shuttle service to allow people released from Central North Correctional Centre (CNCC) in Penetanguishene to get closer to home, or where they lived before spending time behind bars.
Barrie Mayor Alex Nuttall has said the regular drop-off in Barrie of recently released prisoners puts additional pressures on the city's social service agencies. He has said the city doesn't have the resources in place to support those brought to Barrie from prison on a regular basis.
Opposition to Barrie council's measures on chronic homelessness and enhancing public safety has come from all quarters.
An anonymous group said last spring it would bus homeless people from across Ontario to city councillors' homes if they didn't reconsider and repeal new council policies addressing chronic homelessness.
Barrie Express Bus said it would use public bus networks, private transportation and charter coach transportation directly to homes of council members. Digital advertising laying the blame for the increased homeless presence, on council, would be purchased.
But none of these measures took place.
The County of Simcoe is the designated service manager for Barrie, under provincial law. The county is responsible for planning, funding and managing social housing programs and homelessness services. While city council can encourage and facilitate the provisions of affordable housing through initiatives, programs and policies, the city does not provide nor manage housing.
The county retained One Community Solutions, an alternative security company, to undertake a pilot program for downtown Barrie outreach with marginalized and vulnerable residents and local businesses. It conducts walking patrols in teams of two, with two shifts – one from 8 a.m. to 4 p.m., and the other from 4 p.m. until midnight. Its members wear yellow vests with identification on them.
One Community Solutions staff work with people who may be experiencing homelessness, opioid/drug/alcohol addiction and those suffering from mental health challenges in a compassionate way.
Tonight's public meeting is being held in person in the Council Chambers, as well as virtually.
The subject of Tuesday's public meeting - Options to address chronic homelessness in Barrie (exact wording below):
1. That the Chief Administrative Officer consider/utilize the following options to address chronic homelessness and enhance public safety in the City of Barrie:
a) Request Funding from the Province of Ontario for: i. Additional financial support for the Rapid Access Addiction Medicine (RAAM) Clinic to provide more beds and to increase the hours of operation; and ii. For a similar organization that provides long-term counselling and treatment.
b) Approve funding for the following: i. A Family Re-unification Fund to pay for the transportation costs and help reunite individuals with families or support groups. ii. The operation of a shuttle service for individuals released from the Central North Correctional Centre; iii. A Cooling and Warming Centre for at-risk individuals and the provision of daily meal programs that are currently being offered on public lands and in public parks over multiple years; iv. To the Salvation Army or a similar organization to support a lunch program; and v. For food security programs through local agencies to reduce the needs associated with panhandling.
c) Request permanent funding from the Province of Ontario and the County of Simcoe for the County of Simcoe's mobile outreach pilot program in downtown Barrie, if deemed to be successful by the City of Barrie and the County of Simcoe.
d) Changes to the City's By-laws, protocols, and processes to: i. Prohibit the use or distribution of tents or tarps in public parks or on public lands without a permit; ii. Prohibit the distribution of food and grocery products in public spaces without the use of a permit; and reduce the time required to address camping in parks and storage of goods in parks or public spaces.
e) Methods to prohibit the payment to panhandlers on City Streets, intersections, and highway ramps;
f) The placement of signs on City off-ramps to discourage panhandling or financial support thereof and encouraging donations to local social service agencies;
g) Work with the County of Simcoe and Province of Ontario on ways to build more supportive housing for community members experiencing adverse mental health or addictions; Appeal to the County of Simcoe for funding to help individuals transition from unemployment to employment through training opportunities;
i) Schedule a public meeting to be held at the Community Safety Committee regarding chronic homelessness, addictions, and mental health supports in the City of Barrie;
j) Have staff apply for any provincial or federal funding opportunities available to support the options outlined in this motion.
2. That funding of up to $825,000 per annum for 2 years from the Re-Investment Reserve be made available to fund any of the options detailed in paragraph 1 that are undertaken, as required.
3. That, if necessary, the Chief Administrative Officer be authorized to waive the City's purchasing by-law to award any items or services required to undertake the options listed in paragraph 1.
4. That the Chief Administrative Officer provides quarterly updates to the Community Safety Committee regarding the effectiveness of the options that are undertaken as part of this motion.