The South Simcoe Theatre (SST) has some special treats to offer this week.
From Thursday to Sunday (June 1-4), Four Play: A Showcase of Play Readings takes place on each of those days, and on Saturday, June 3 the theatre will have its annual tea room to coincide with the Cookstown Wing Ding.
Play readings allow the audience members to experience the essence of a production — the script. While costumes, lighting, movement, and set design combine to make a full show, in a play reading the words take the stage.
SST makes a call for submissions in the fall of the previous year. A committee chooses those to be presented at Four Play. Directors are found, auditions take place, and the readings are lightly rehearsed to bring the words to life.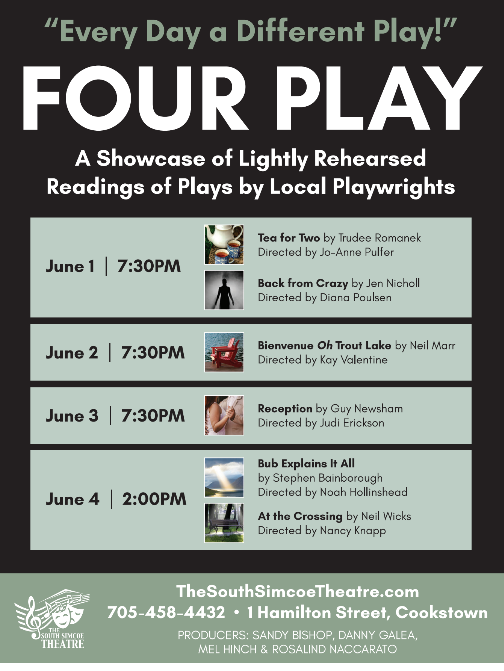 Each of the three evenings and Sunday afternoon, SST presents a different play or plays, depending on length. This year there will be a total of six plays over the four days. All the plays are written by local playwrights.
"As Innisfil's community theatre, we want to be able to give writers in the general vicinity a chance to hear their works read," said Danny Galea, co-producer of Four Play.
"We've had writers from Cookstown, Barrie, Bradford, Orillia and other places around Simcoe County," said Galea.
"We have returning playwrights Trudee Romanek of Barrie, Stephen Bainborogh of Barrie, Neil Wicks of Barrie and Guy Newsham from Gloucester near Ottawa. Joining them are new writers Jen Nicholl of Innisfil and Neil Marr from southern Ontario."
To add to the local flavour, SST is hosting a tearoom on Saturday at the theatre from 10 a.m. to 2 p.m.
"The tearoom and strawberry shortcake during Wing Ding is a fundraiser, bringing in badly needed funds to keep the doors of the theatre open," said Galea. "On top of that, it allows SST to be part of the community and raises awareness of our existence within the community."
Four Play gives an opportunity to the community to hear different stories than they may in a theatre's regular season. It also gives the playwrights a chance to hear their work. This adds to the full development of a play because hearing the script out loud is quite different than reading silently. It is easier for the writer to get a sense of what works well, and what could be added or edited.
Four Play also helps hone the skills of new actors and directors by working to bring a play to life without being overwhelmed with a full production. Actors can really focus on characterization, without memorizing a full script, Galea explained.
The role the audience has is to enjoy the story and words while contributing, just by being there, to the development of a piece of theatre.
For the second year in a row, SST is asking people to "pay what you wish." Tickets are only available at the door.
"We want to give our regular patrons and those who want to experience live theatre or a play reading an opportunity to see all four shows, a different show every night, without breaking the bank," said Galea.
The readings take place Thursday, Friday and Saturday at 7:30 p.m. and Sunday at 2 p.m. Thursday evening, Tea for Two by Trudee Romanek, and Back from Crazy by Jen Nichol will be read. Bienvenue Oh Trout Lake by Neil Marr will be presented on Friday, and Reception by Guy Newsham on Saturday. Sunday will close out SST's 2022-2023 season with Bub Explains it All by Stephen Bainborough and At the Crossing by Neil Wicks.
The South Simcoe Theatre's 2023-2024 season starts with You're a Good Man Charlie Brown (revised) based on the comic strip Peanuts by Charles M. Schulz Nov. 3-19. SST is celebrating its 40th year of community theatre in the Old Town Hall, 1 Hamilton St., Cookstown.
For more information about the lineup, auditions, workshops, and how to be involved with the theatre visit: www.thesouthsimcoetheatre.com
For more information about the Cookstown Wing Ding, click here.