In what is still something of a rebuilding/transition time, the Barrie Colts may not be too shabby this season.
By starting the Ontario Hockey League schedule with consecutive wins over the North Bay Battalion, the team that ended the Colts' hopes last spring, the positive moves made over the summer appear to be bearing fruit.
The biggest such development was Eduard Sale's arrival in Barrie. The first-round pick of the Seattle Kraken scored on a beautiful move in the shootout in Thursday's home opener, won by the Colts, 4-3, after the home club tied it up in the waning seconds.
Sale was sent by the Kraken to Barrie to get used to the smaller ice and other nuances of how the game is played in North America. The adjustment for all import players can take time, but Sale's skill and vision are obvious. His ability to play in contact is still a work in progress.
Another notable addition has been Riley Patterson. Acquired through trade from the Flint Firebirds, he was committed to Michigan State, but chose instead to play for the Colts. A centre, Patterson joins 2004-born Beau Jelsma and Cole Beaudoin, who, like Patterson, has a 2006 birth date and is eligible for the 2024 NHL Draft, down the middle.
Jelsma, defencemen Connor Punnett, who was recently named team captain, and Beau Akey will be the Colts' three main leaders. All recently returned from NHL camps, with Akey earning praise from the Edmonton Oilers coaching staff for the way he handled himself in his first go-around with the team that drafted him in the second round in June.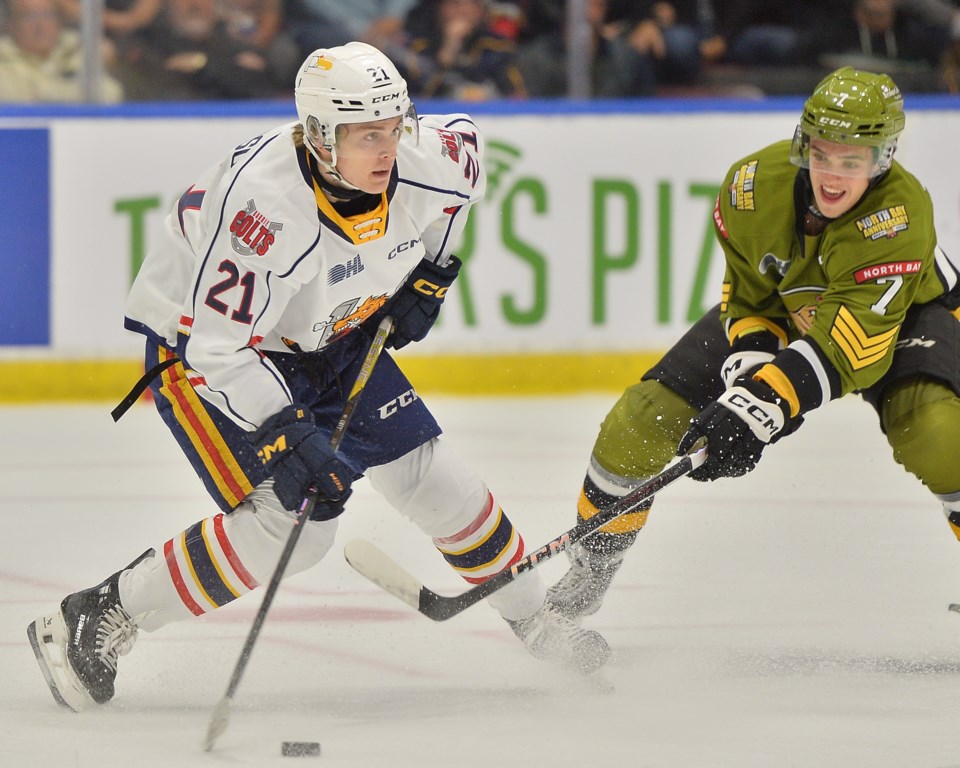 Punnett plays hard and seems to know when to go to the edge without crossing over. He was assessed a borderline interference penalty on Thursday night — the puck arrived a shade after Punnett bulldozed an unfortunate Battalion forward on what was otherwise a heads-up pinch in the offensive zone. The problem was the Battalion scored to take a short-lived lead that looked like it was going to hold up until the captain scored to send the game to overtime.
The Colts also have high hopes for Swiss winger Endo Meier, who they took in the most recent import draft. Though not as dynamic as Sale and not drafted by any NHL team, Meier can play. But again, the adjustment process and how long it will take will likely be the determining factors on how effective Meier can be in his first OHL season.
As an aside, both Sale and Meier are dead-certain picks to play for their country at the world junior tournament this holiday season and will be gone for a long stretch through December and into January. Akey, if he has a phenomenal first half, could earn an invite to Team Canada's final selection camp, but his best chance will likely come next season.
As for overagers, Tyler Savard was dealt to Kingston to help clear a glut of 2003-born players. Forward Jacob Frasca, fresh off a solid season in 2022-23 and a good showing at the Leafs training camp, and Punnett are certain to claim two of three allotted spots.
The third will be determined by whether the Arizona Coyotes return goaltender Anson Thornton to the Colts. If Thornton is back in Barrie, it will make local product Ben West expendable, though it's possible Thornton will be dealt to a more obvious contender.
West has earned longer consideration. He stopped two penalty shots on Thursday night and three more in the shootout to give the Colts a chance to win.
Defenceman Josh Kavanaugh is also in the over-age mix if the Colts elect not to use one spot on a goaltender. The most likely scenario is for Colts management to see what team they have by about December.
Another roster consideration is a glut of 2004-born forwards. It makes little sense to keep several depth players in their final year of junior hockey; the Colts may look to deal a few in trade to free up ice time for players such as Bode Stewart and Carter Lowe.
First-round pick Shamar Moses, the youngest player on the active roster, will likely see spot duty up front for now.
Impressive 2006-born rookie defenceman Jack Brauti is in a similar position as Stewart and Lowe at the back end.
It's early, but the Colts are clearly a playoff team with a potential to earn a top-four conference berth and home-game advantage in the post-season. There should be no illusions: Sale, Patterson, Meier and Co. are not yet making fans forget the talented duo of Evan Vierling and Ethan Cardwell, who combined for 185 points last year. And, as impressive as Akey has been in the opening two games, he's no Brandt Clarke.
Yet.
As for the rest of the Eastern Conference, the Sudbury Wolves, Mississauga Steelheads and Brantford Bulldogs are all expected to be improved, while the Ottawa 67's, regular-season leaders from last season, should remain strong. Where the Colts fit among those five teams, along with one or two other dark horses, probably has as much to do with the decision the Coyotes make in Arizona regarding Thornton and how head coach/general manager Marty Williamson sees his team at the January roster deadline.
In the west, Memorial Cup hosts Saginaw Spirit, who have numerous former Colts on their rosters, and the London Knights are the clear favourites, along with an improved Guelph Storm. The Owen Sound Attack may also factor into the mix.