Whether you are a competitive athlete, a fair-weather enthusiast, or recovering from joint replacement, understanding how your body is moving is key to both improving and avoiding injury.
In order to better understand their client's biomechanics, the team of certified pedorthists at The Stride Clinic uses the world class 3D Gait system along with clinical assessments to provide a comprehensive analysis.
Armed with this detailed information, athletes of all levels as well as individuals who are recovering from injury or surgery can hone their training in order to improve their outcomes while avoiding injury.
High Tech Assessment Tool
The 3D Gait system is a non-invasive assessment tool that records your movements while you are running or walking. This type of system, which is generally found in university biomechanics labs, is available at The Stride Clinic here in Barrie.
The detailed information provided by a 3D Gait assessment helps your exercise and rehab professionals better understand how you may be prone to injury, how to prevent it, and how to help you to improve your athletic performance.
"For example, in one case study, an individual had a stress injury with a neurological condition that was affecting strength in one of their legs. The 3D Gait analysis revealed just how much one leg was compensating for the other. Without proper movement pattern retraining, continued compensations would likely have occurred and we would not have been treating the root cause of the injury," explains Josée Gingras, Lead Pedorthist for The Stride Clinic.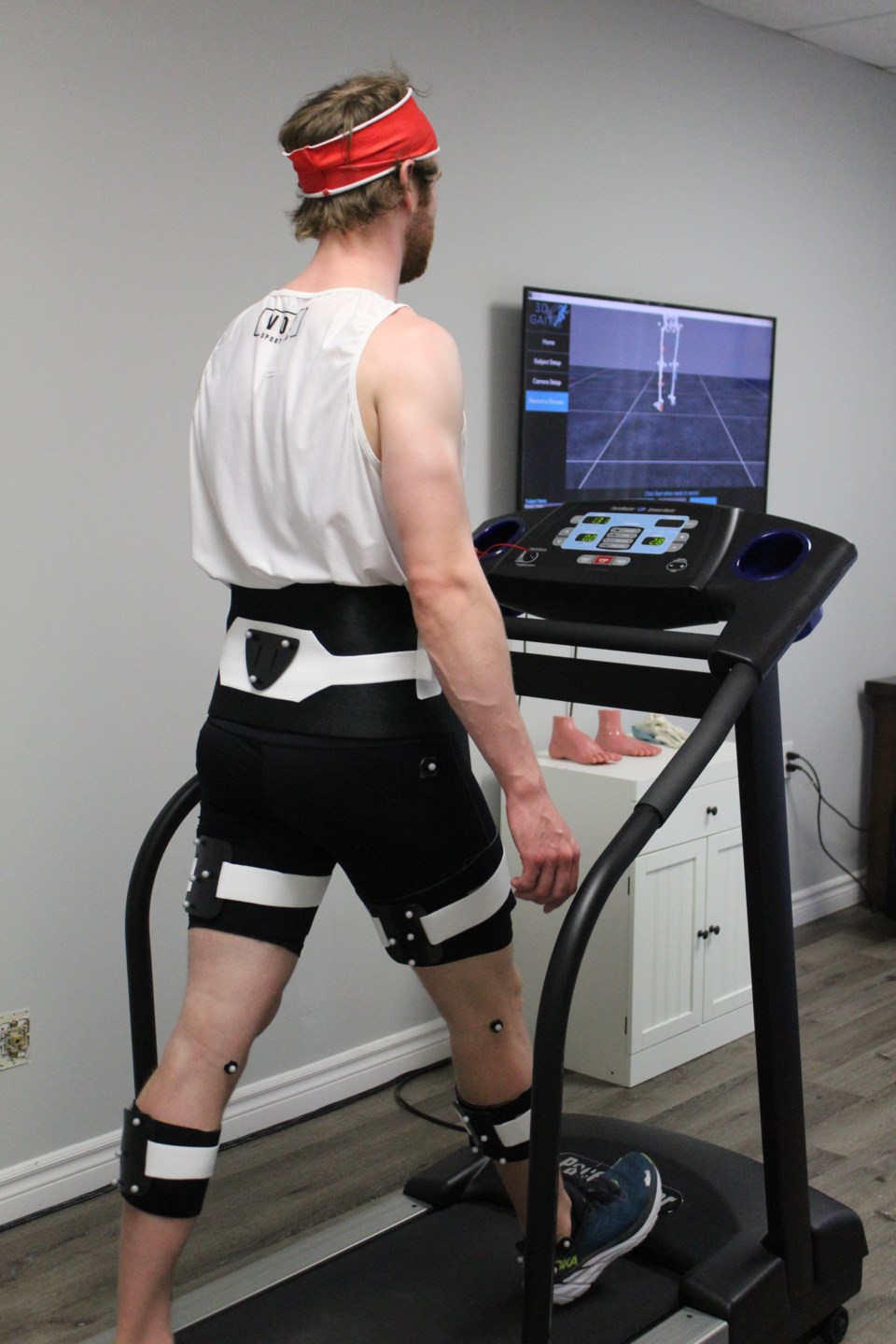 Athletes of All Levels
According to Josée, the 3D Gait system provides detailed information that helps athletes gain a competitive edge that can take them to the next level.
"The 3D Gait system is used for competitive sports applications to identify areas of weakness so athletes can specifically tailor their training," she explains. "But it isn't just for high level athletes. It can also help novices and weekend warriors to detect faulty mechanics that can contribute to injuries. Most studies estimate that about 50% of runners will experience an injury in any given year. The 3D Gait system provides an injury risk score to identify areas where these injuries may occur so you can help you to prevent problems before they happen."
Better Outcomes After Joint Replacement
3D Gait technology can also help individuals who need or have had joint replacement surgery.
"It is a great tool to assess biomechanics pre- and post-joint replacement to assess progress as well as to identify areas where further rehabilitation may be required in order to ensure long term efficacy of surgical intervention," says Josée.
To find out more about their 3D Gait system or to book an assessment, visit The Stride Clinic online or call the Barrie clinic at (705) 735-1013.