Nathan Langille is a Barrie man living with Parkinson's disease and as such he doesn't know what the future holds for him. His entire family participates in the SuperWalk each year on their team, "Nathan's Cure Chasers" to support him no matter what may happen.
Parkinson's is a lifelong, incurable brain disease that occurs when brain cells involved in mobility and coordination are dying. As a progressive disease, symptoms slowly worsen, and new ones develop over time. While Parkinson's is typically known for movement-related symptoms like tremors and difficulty with mobility, non-movement symptoms such as anxiety and depression, sleep issues, thinking problems, and sometimes even dementia can also occur. There are more than 35 Parkinson's symptoms, and they can vary from one person to the next making everyone's experience with the disease unique.
SuperWalk is the largest annual fundraiser for Parkinson Canada, and to date, the event has raised over $40 million to fuel research, create support tools, and promote advocacy for people living with Parkinson's. 
Nathan Langille went to his first SuperWalk in 2015 after being informally diagnosed by his GP with Early Onset Parkinson's Disease (EOPD) at the age of 38. Nathan had to wait a few months for a formal diagnosis with a Movement Disorder Specialist in Toronto. Even though he knew that he probably had Parkinson's he was still in shock. On the drive to and from the appointment, he was shaking so violently in the car that his seat was shaking with him. He realized that his life was going to change and not in a good way.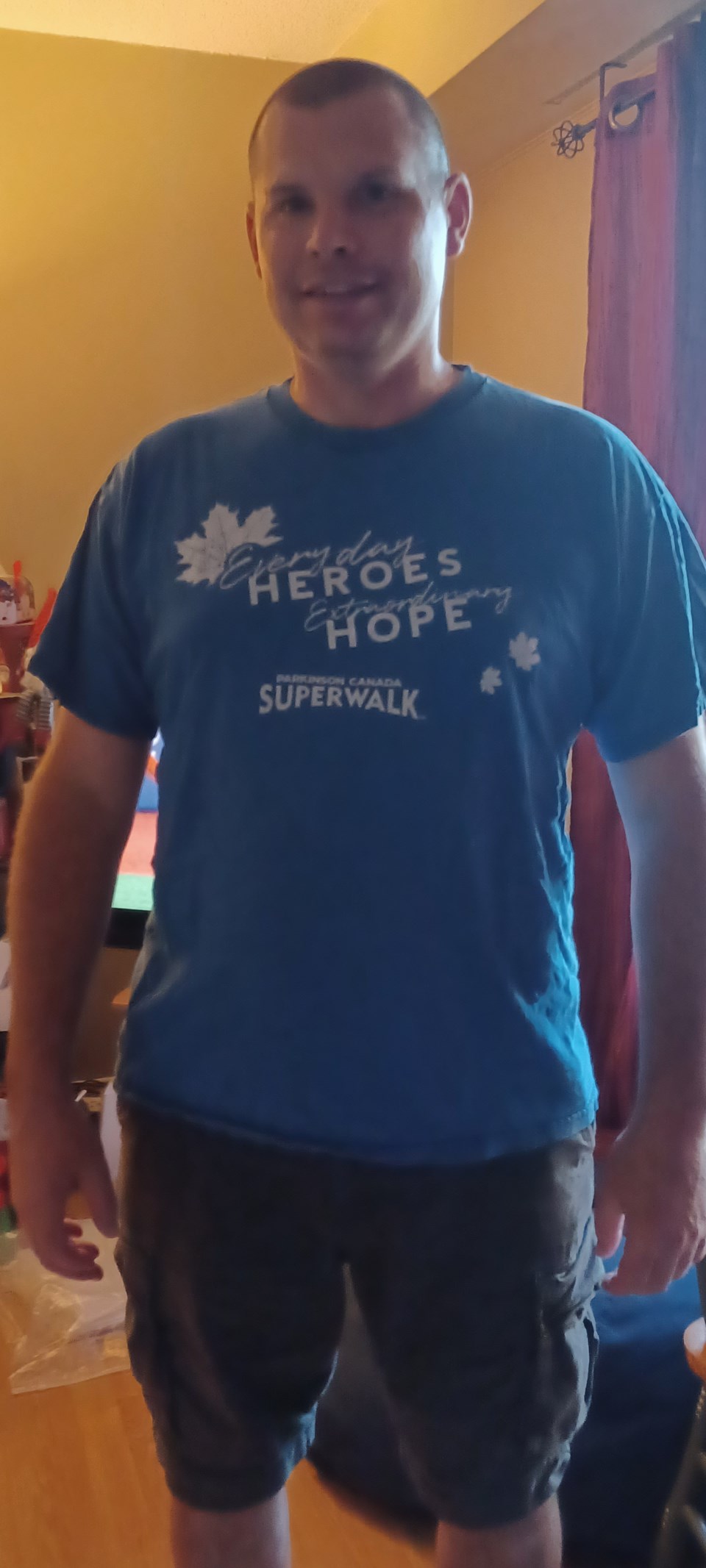 After the diagnosis, Nathan contacted Parkinson Canada and he and his family visited with a nurse and a counsellor to learn more about the disease. "It was good for me, my wife, and my kids to be able to talk to someone about our feelings," Nathan recalls. He was relieved after the meeting to know that there was help for his symptoms (tremors, stiffness, and freezing) by taking prescribed medication. Nathan was also relieved to know that Parkinson Canada was funding research to find a cure.
Today Nathan has his symptoms under control although there have been struggles to find the correct type and dosage of tolerable medication that works for him. Medication affects everyone differently and the side effects can be difficult to manage.  
Nathan is one of more than 100,000 Canadians living with Parkinson's, a number expected to increase substantially in the coming years, with 30 Canadians diagnosed each day. Parkinson Canada funds critical research, provides information and support, increases awareness and advocates for improved healthcare outcomes for people with Parkinson's across Canada. 
Dust off your most comfortable shoes and get ready to join Parkinson Canada for the 33rd annual SuperWalk. Please visit  www.SuperWalk.ca to learn more about the Barrie SuperWalk and how to register or make a donation.