For an entire year, Linda Ireton has laid in a hospital bed, confined to a sterile room, with nowhere else to go.
She doesn't need a hospital bed, she needs a long-term care bed, but a growing stack of rejection letters informs her there isn't a bed for her.
She can't go home, because her hospital stay has made her too weak to move around independently.
"I have been forgotten …. I've fallen through the health-care system's cracks … 12 months in here, laying in this bed, I have been forgotten," she said.
She's had 64 roommates in the bed next to hers, one of many things she counts while she waits.
She spent one Christmas, Thanksgiving, Easter, and New Year's Eve in that hospital bed. She's afraid it will be two.
She's had to wish happy birthdays to her 10 grandchildren with a phone call instead of with a hug and a smile at a family gathering.
"I just want to find a place where I can settle and be there until the end of my life," said Ireton. "I know that it might take a little bit longer, but I'm hoping it's not going to take too much longer."
She did get to spend her own birthday at what she thought might be her permanent home at Stayner Care Centre. She was given a room there on Feb. 18, 2023 and she says it almost killed her.
Within four weeks, Ireton was taken to hospital by ambulance with a life-threatening infection in her genital area caused by improper toilet hygiene. Ireton was confined to a bed at Stayner Care Centre where hygiene and toileting tasks were performed by staff.
Ireton was near death. The infection led to pneumonia. Medication had little effect.
Ireton's daughter, Heather McIntyre, said she was preparing to say goodbye to her mother.
"They were about to start doing comfort measures," said McIntyre, referring to end-of-life care. She asked a doctor to try an intravenous antibiotic that had worked for her mom in the past. Ireton got a dose of the medicine at 1:30 p.m. and McIntyre sat beside her for the treatment.
"I said 'You have until 5 o'clock to show me that you want to be here. You gotta show me … otherwise we're going to prepare to let you go.'"
Ireton pulled through, but she described those hours to her daughter as a walk toward death.
"I know now it was a spirit walk," said McIntyre, who leaned into her and Ireton's Indigenous roots during the uncertain time. "I was singing by her bed … I was singing the Miigwetch [thank you] song and just giving thanks for the time we had … and she told me she heard my singing and said 'no, I can't go now.'"
The profound moment has a dark cloud over it for McIntyre, and it gets darker every day her mom stays in a hospital bed with nowhere to go.
"I hold a lot of guilt because of the life she has inside that hospital and wondering … just like she wonders … is this what the rest of her life is going to be?" The question catches in McIntyre's throat.
Trinkets and tight quarters
Ireton is 73 years old. She is 147-centimetres tall (four feet, 10 inches) and weighs about 200 kilograms (450 pounds).
At Collingwood General and Marine Hospital her room includes her bed, a metre of floor space on one side, a window, a windowsill and a cupboard for her belongings. A tray table to roll across the floor so Ireton can reach her meal and water. The walker she used to get around before her hospitalization a year ago is parked in a corner. It's the only seat she has to offer her visitors.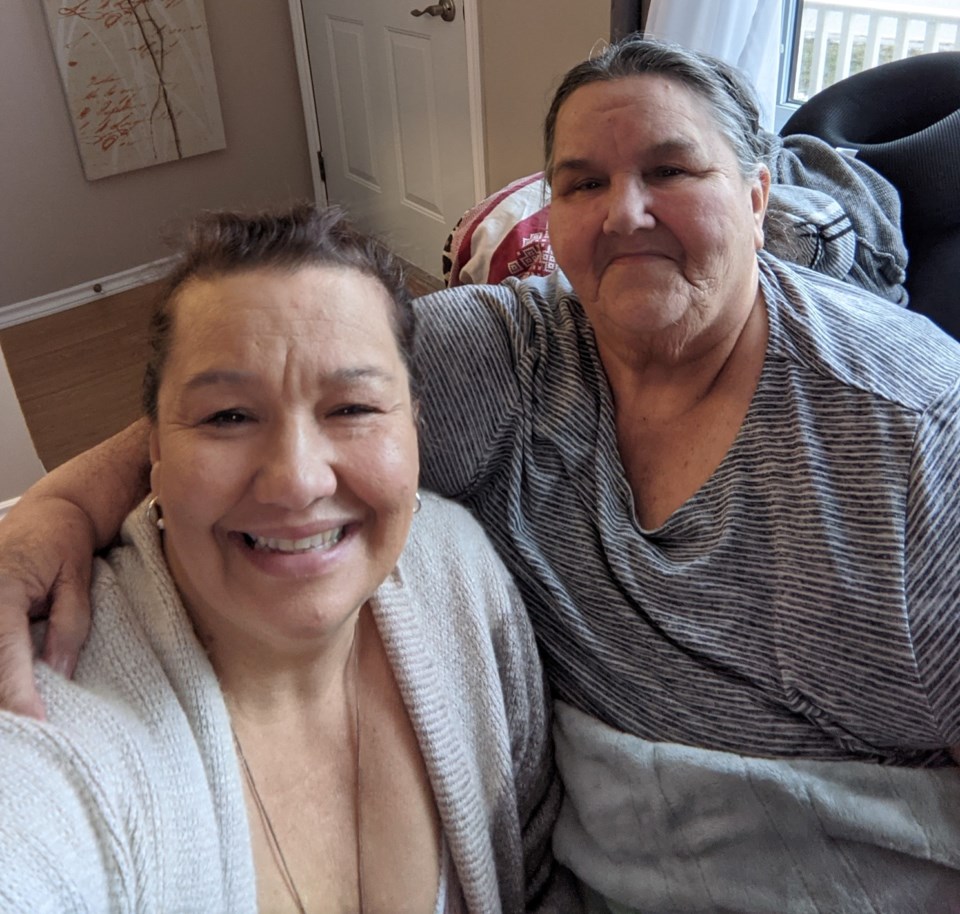 Beside her bed, a thin curtain separates her from whatever roommate she has that day, sometimes a man, sometimes a woman, always someone who leaves the hospital before Ireton.
Here she waits, passing the time by watching cheesy Christmas movies, reading mystery novels, and talking on the phone to her big family in between their visits.
When her family isn't there in person, Ireton keeps them close to her heart.
There are greeting cards — Ireton calls them "love me cards" — stuck to the side of the window frame.
On a piece of white letter-sized paper there's a heart drawn and filled in with long strokes of red marker. Above the heart, in rounded, squished letters are the words: "To Linda, How are you? Good or bad?"
The artist is her step-grandson, who spent a bit of time in hospital, too, and came to offer sympathy.
Above Ireton's head, hanging from the bar she uses to pull herself up and move around, are talismans imbibed with the strength of family. A purple bracelet with meticulously placed beads to form yellow, blue, orange and purple hearts was made by her granddaughter. A dreamcatcher from Linda's youngest brother that was made by an Ojibwe artist.
"When it's hanging right up there … I'm getting strength from it," she said. "That's my connection to my family."
With the bracelet and dreamcatcher, there's also a rock painted with the words "I love you," from Linda's daughter, Heather, and a dragonfly to represent Linda's late daughter, whose headstone bears the image of the dragonfly.
"Every time we see a dragonfly … the other night I saw one at the window … we just say 'Hi Sarah.'"
Sarah-Jean Lawler (Ireton) was the youngest of Linda's three children, and the mother to four of Linda's grandchildren and step-mom to two more children. She died on Jan. 2, 2018 of a heart attack at the age of 38.
Ireton did re-marry in 1999, to Walter.
"He was the best person … so gentle," said Linda.
He died about a year after her daughter Sara-Jean, also of a heart attack.
A caregiver and a farm hand
Linda Ireton was the third of 10 children born to Bertha and George Mills. She and her siblings grew up together on a pig farm in Singhampton.
One of Ireton's brothers died of dysentery at 10 months old. He's buried in Newmarket.
Linda and her other brothers and sisters helped their parents work the farm, cleaning out the stalls and the barns, bringing hay into the loft. Ireton was usually the one up in the hay mount moving the bales around. They helped bale straw for the pigs' bedding, and they picked stones from the field.
Ireton and her sisters also set up their own exercise room in the barn, and they exercised together.
"I would always exercise," she said.
Her legs, which were never very strong, became painful and she required surgery to remove bone and other fragments from her knees.
"Even at a very young age, I could be doing anything that anybody else was doing and the next thing I knew, I was laying on the ground … my legs would just give out," she said.
She quit school in Grade 11 to stay home and help her mom care for her baby brother and sister, both of whom were born near their mom's "change-of-life."
Ireton's mother died of cancer, and she stayed to take care of her to the end.
Ireton married and she had two daughters, Heather and Sarah-Jean, and a son, Chris.
She was 119 pounds when she got married, but started gaining weight after having children.
"I had lost some muscle from when I was always exercising … so that's why I'm afraid of laying here, my muscles are getting weaker," said Linda. "I'm not going to have the hospital put me in a wheelchair because I can't walk. I want to be able to stand up and at least get into that wheelchair."
Her first husband struggled with alcoholism and became abusive about six years into their union. When the marriage ended, Ireton went back to her father's farm and rented one of the houses on the farm while she worked for him.
During her first marriage and following the birth of her third child, Ireton started a home daycare in Markdale, taking in up to five other children every day.
"I really love children," she said. "It wasn't a job for me … my life has revolved around children and caregiving."
Speaking about her daycare children reminds Linda that she has yet to meet five of her nieces and nephews because of her hospital stay.
"That's what plays on my nerves, not being able to see them," said Ireton.
Though she's healthy enough to leave the hospital, Ireton can't leave her bed right now.
"That bothers me because there are so many things that I always did with the kids, even though I was having a hard time walking, I could always walk with my walker," said Ireton.
An act and a code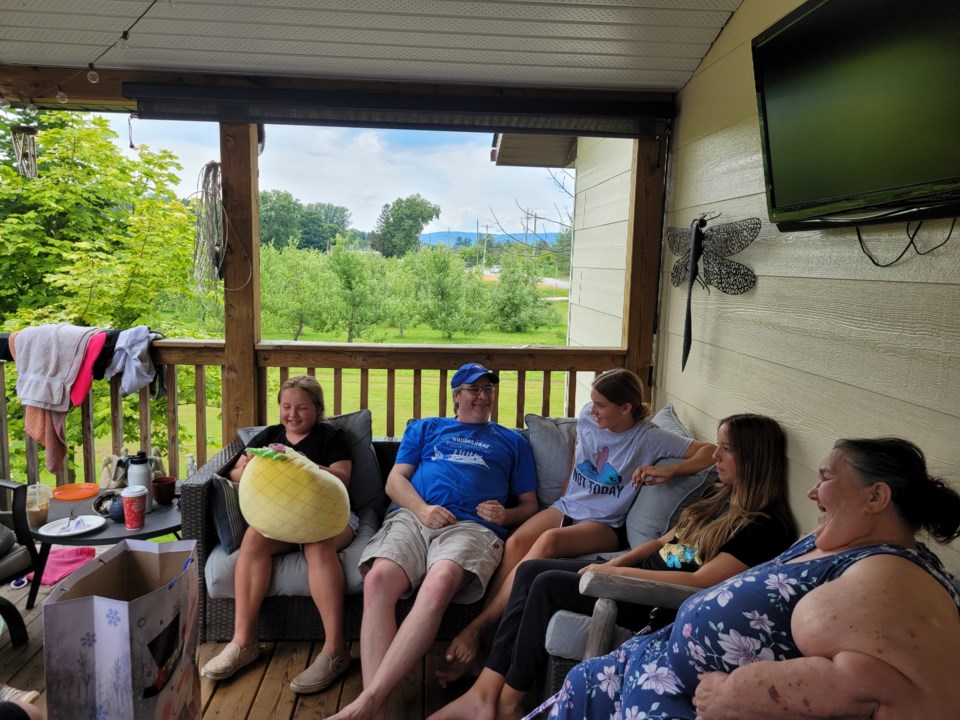 During the COVID-19 pandemic, Ireton found out she had colon and uterine cancer and underwent surgery and rehabilitation. She went back home to McIntyre's following her surgery and the cancer is now being monitored.
A year ago, Ireton was regularly riding her mobility scooter in downtown Collingwood, enjoying some window shopping, one of her favourite pastimes.
But, she had a fall and developed an infection in her leg, which required a visit and stay at the Collingwood General and Marine Hospital on Sept. 15, 2022. She was there for seven weeks, confined to a bed during treatment.
"She didn't regain the ability to stand on that leg," said McIntyre. "I was told to get used to the idea that my mom was a bed patient now."
She said the hospital proposed home care and a bed in McIntyre's living room for her mom with nurse visits each day.
But McIntyre knew the promise of daily visits was one that couldn't be kept.
"I was forced at that point in time to refuse her coming home in order for her to be put on a crisis list," said McIntyre. Ireton was already on a waiting list for long-term care, but without a place to go out of hospital, she would be considered higher priority for a bed. The idea was to find Ireton a long-term care bed faster, but that's not what happened.
Technically, Ireton became, and remains, homeless.
Six months later, Ireton was accepted to Stayner Care Centre.
"It was not optimal," said McIntyre. "When I got there there were no supports in place, there was no bed rails, no pull-up bar, no commode, no wheelchair, nothing."
It was there Ireton developed the life-threatening infection and returned to Collingwood General and Marine Hospital.
While at the hospital, she lost her bed at Stayner Care Centre.
Trevor Sykes, a spokesperson for Stayner Care Centre, said the home was unable to comment on the personal care of residents "in order to protect their privacy."
Sykes directed questions to Home and Community Care Services and to the Ministry of Long-Term Care.
"A regulation under the Fixing the Long-Term Care Act, 2021, stipulates that long-term care homes shall discharge a resident on a medical absence that exceeds 30 days," stated Sykes in an email.
Ireton was ready to go back to Stayner Care Centre within the 30-day window, but had to delay her return because of COVID at the hospital. She did apply to return to the home, but was turned down.
"Our home does not have the physical facilities to ensure your safety," reads the rejection letter from Stayner Care Centre.
McIntyre has a pile of similar letters.
"We've applied and got rejection from homes from Owen Sound to Shelburne to the other side of Barrie," said McIntyre. "She's been a crisis bed patient … what's going on? What's happening?"
None of the letters explain what McIntyre can do to get her mother a spot at a home.
Jane Meadus, a staff lawyer and institutional advocate at the Advocacy Centre for the Elderly, said McIntyre's questions, and her worries, are all too common in Ontario.
"People are refused by long-term care homes illegally, and no one follows that up … because complaints are generally left to the applicant to make, and they don't know the rules," said Meadus in a phone interview with CollingwoodToday.
The Ontario Fixing Long-Term Care Act states that a home "shall approve" an applicant's admission to the home with exceptions: a lack of physical facilities or a lack of nursing expertise necessary to meet the applicants care requirements.
But it's not enough, said Meadus, for the homes to quote the Act, they're also supposed to deliver a written and detailed explanation of the reason for the rejection and the supporting facts specific to the home and the patient.
"Placement of people who are morbidly obese is very difficult in Ontario's long-term care system," said Meadus. "The Ministry of Long-Term Care has not done a good job to ensure that the law is being followed … when people are being refused by homes."
She said some of the letters Ireton received were not sufficient based on her interpretation of the Ontario legislation because they lack detail and explanation. The letters also do little to give Ireton and her daughter any options.
"We are talking about people who are morbidly obese, who have unusual behavioural issues or unusual diseases, who are expected to go to long-term care, and yet every long-term care home will turn them down," said Meadus.
While there are appeal actions that a person can take after receiving a rejection letter from a long-term care facility, it's not an easy system to navigate. It's also a time-consuming process to lodge a complaint with the Ministry of Long-Term Care, and it all must occur while a person is waiting for a long-term care bed.
McIntyre is feeling the stress, trying to navigate an unfamiliar and convoluted system while working full-time, sometimes out of town.
Until a family vacation in June, McIntyre drove around with some of her mother's belongings in the back of her car, expecting any day to be able to move her into a long-term care home.
"Nobody will give me a clear answer," said McIntyre. "All I get is these letters that say 'you don't meet our requirements.'"
Those requirements are about as tangible as waves on the sand.
McIntyre said she was told that a $14,000 custom motorized wheelchair would help improve her mother's chances of getting a long-term care bed, but her mother will still need help getting into and out of the chair, bed, the toilet.
"What the hell?" exclaims McIntyre, exasperated thinking about the questions she's put to whomever would listen. "I just want clear answers. How do I give the mother that gave me life, life at the last end of her life."
She is at her wit's end, reaching out to the caseworkers, often without a response.
"I don't know how to move through this," said McIntyre.
Meadus said it takes someone knowing enough about Ontario legislation to realize when something is being done wrong and to complain about it.
"The ministry can inspect and can order homes to provide proper information," said Meadus, adding a complaint and ministry inspection can even result in someone getting a bed that was previously denied.
"The ministry rarely orders [a home] to admit someone, except in some unusual circumstances, but it has happened," she said. "And I think they should be ordering homes to admit people if they don't have a valid reason to refuse a person."
McIntyre understands her mom could end up in a home far away from Collingwood (up to 70 km away) and while it's not ideal, she said it would be better than a hospital bed.
"Regardless of where my mom gets a bed, my mom makes friends everywhere, but she needs to be awarded the ability and the opportunity to go out and meet people," said McIntyre, the words catching in her throat. "She shouldn't have to sit in her bedroom like a castaway because 'we don't have enough people to get you out of bed.'
"Our system is a little jaded," said McIntyre.
Meadus agrees, and also raises the argument that there are human rights at stake when long-term care homes reject applications because of a patient's size.
"They're also required to try to accommodate under the Ontario Human Rights Code," said Meadus. "So the question is, first of all, are they in compliance with the Fixing Long-Term Care Act when it comes to admissions, but also, are they in compliance with the Ontario Human Rights Code?"
She said the human rights code should be considered more in cases like Ireton's.
"That's definitely an issue because the homes just say 'no,' they don't do anything to try to change or try to accommodate people," said Meadus.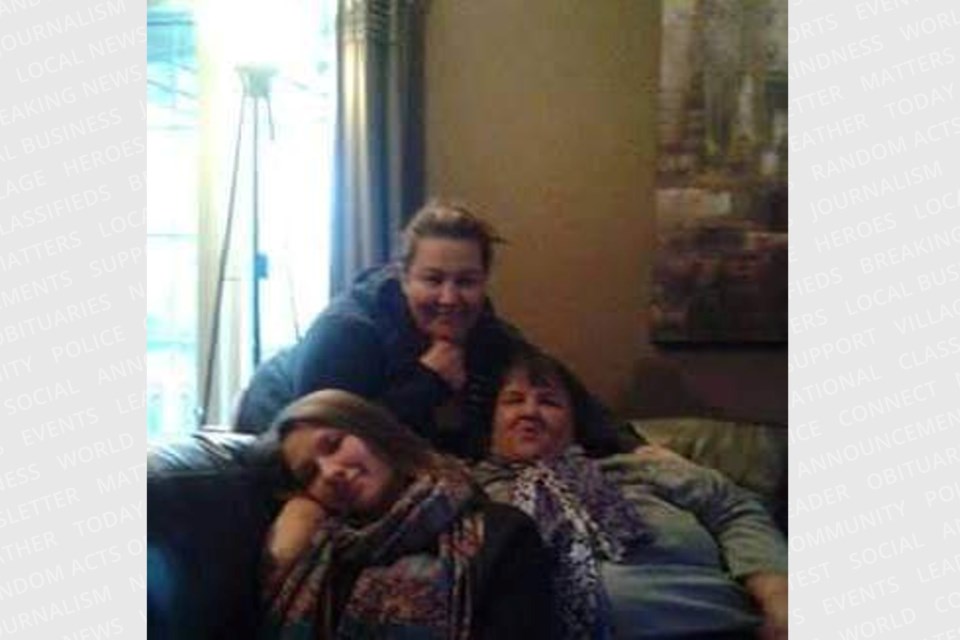 A bill and a big purchase
Ireton has been paying roughly $60 per day for her bed in the hospital since she's what's called an alternate level of care (ALC) patient. She doesn't need hospital care, but has nowhere else to go, so her stay in the hospital is not covered by the Ontario Health Insurance Plan (OHIP).
Ireton currently owes the Collingwood General and Marine Hospital $8,000 for her time there. She will also have to pay about $5,000 toward cost of the custom wheelchair; the rest has been covered by a grant. Ireton has a pension of $1,600 per month. If she gets a long-term care bed, she'll be spending about $1,500 a month (a subsidized total) for her bed there.
Ashley Hallahan, the manager of patient access and flow and ambulatory care at Collingwood General and Marine Hospital, acknowledged it's not a well-known fact that an ALC patient will have to pay for their bed.
Alternative level of care patients can be people waiting for long-term care beds, but they can also be waiting for a spot in a rehabilitation facility after having a stroke or needing therapy for musculo-skeletal injuries.
Costs for ALC patients are set by the Ministry of Health and Long-Term Care, not hospital-directed, noted Hallahan.
Between Feb. 1 and July 31, 2023, there were 12 patients at Collingwood General and Marine Hospital, including Ireton, classified as alternative level of care and waiting for long-term care beds.
"We're an acute care centre," said Hallahan. "We service an extensive population and high volume of tourists with, say, 84 to 88 acute care beds."
On a good day, according to Hallahan, there are 14 patients in the emergency department who need acute care beds the hospital doesn't have.
"So it's very challenging when we have patients that no longer require an acute care service and then become what's called an alternative level of care," said Hallahan, who said she couldn't comment on Ireton's specific case because of patient confidentiality.
Since an alternative level of care patient is stable and doesn't require acute care while in the hospital, the care they receive will differ from a patient who is very sick and receiving acute care.
"It might be that their vitals are only getting checked once a week," said Hallahan. "The doctor might not be visiting daily … sometimes it withdrawals rehabilitation services … because again we're an acute care facility."
A "field guide" produced by the province for placement coordinators charged with helping ALC patients find long-term care beds states that placement coordinators should explain to patients that long-term care is a more suitable environment because of the care, environment, and programming available at long-term care homes.
A joint statement issued by Ontario's Minister of Health Sylvia Jones, and then-minister of long-term care Paul Calandra in November, 2022, regarding long-term care legislation, stressed "a hospital is not a home."
Ireton and McIntyre know that all too well after the last year. Ireton has missed any family gathering, limited to a couple of people squished between her bed and the window for occasional visits. Sometimes, no visitors are allowed if the room is locked down because of a contagious illness.
Both Ireton and McIntyre said the care at the hospital has been fine, but they noted a lack of physical support to help Ireton sit on the edge of the bed, get out of bed, and work on building strength to walk again.
"I want out of this bed. I want to be able to sit on the side of the bed and get some strength back in my legs," said Linda, noting the aching pain usually confined to her knees seems to be spreading to her calves now.
The hospital's rehabilitation resources are focused on orthopedic cases, same-day joint discharge programs that have patients leaving on the same day of treatment. For this reason, Hallahan said, it's not always possible to provide rehabilitation care to ALC patients.
"You still have a nurse that is accessible, and if there's any change in a status … it's going to be addressed," said Hallahan.
The difficulty, said Hallahan, is caring for alternative level of care patients while also trying to fulfil the hospital's role as an acute care facility.
"Our absolutely very last resort is to have an alternative level of care patient waiting in hospital for a long-term care bed," said Hallahan. "Because unfortunately, those do not happen very quickly."
She said there have been cases where patients come to the hospital with nobody to be their caregiver. Sometimes, people will die in hospital waiting for a long-term care bed.
"Only in extenuating circumstances are we going to have a patient sit in hospital for a long-term care bed … because it's not in the best interest of the patients," said Hallahan.
But it does happen and in more cases than just Ireton's.
"We see a lot of patients that … don't fall in those specific buckets," said Hallahan. "They have complex care needs that are chronic … they cannot be managed at home … and their care extends [beyond] what a nursing home can provide," said Hallahan.
There are beds reserved for complex continuing care, but the waitlists are long. And for many cases, the hospital is sending those patients to places in the GTA where complex care is available.
There may be local long-term homes providing complex continuing care to patients, but with limited capacity.
"They might already have two patients, so adding a third … they couldn't manage that care … that's a piece of it," said Hallahan.
No government or hospital officials could confirm how many beds are reserved for complex continuing care.
As the population ages, and more people move to the Collingwood area to retire, Hallahan expects the long-term care bed waiting lists could get longer.
"Yes, it probably will get worse," said Hallahan, admitting there are not enough long-term care beds in Ontario. "Ultimately, to get a nursing home bed, as tragic as it sounds, you're waiting for someone to pass away."
The hospital, according to Hallahan, has little say in a patient going into long-term care.
Admission to a long-term care home in Ontario is handled by a service organization called Home and Community Care Support Services, which is funded by the province. A placement coordinator from the organization is meant to guide and manage the process to get a person into a long-term care facility.
Hallahan calls the organization "the gatekeepers to the nursing home worlds."
"It is a challenging system to navigate," she said. "We, as the hospital, we are not the gatekeepers of it … our hands are tied, too."
Home and Community Care Support Services refused an interview, stating the organization was "not in a position to accommodate interviews," even with a window of several weeks. No further explanation was given in response to follow-up questions.
Instead, the government-funded service would only respond to emailed questions with general statements attributed to the organization. The service also claimed privacy rules prevent them from addressing specific cases.
The statement Home and Community Care Support Services provided noted that patient admissions are determined by a variety of factors, and that the needs are assessed and considered as part of the placement.
"For bariatric patients, needs may include bariatric nursing expertise or physical facilities/equipment such as wider door frames, lifts, bariatric beds, or toilets that can support higher weights," read the statement.
The Minister of Long-Term Care's office would not grant an interview with former Minister Paul Calandra, and instead sent a general statement to be attributed to his press secretary, Jake Roseman.
A follow-up request to interview the new minister, Stan Cho, was not acknowledged.
The statement from the minister's office attributed "growing waitlists" over the past decade to a combination of the aging population and "a sector that was systematically underfunded for years by former governments."
"In response, our government is investing nearly $10 billion to build over 58,000 new and upgraded long-term care beds across the province," reads the statement from the minister's office, which later reiterated "years of inaction from former governments."
Long-term care critic, NDP MPP Wayne Gates, said the buck stops with the current government.
"It was under Mike Harris' government that they privatized our long-term care," said Gates.
"Until the government comes to the table and addresses those issues, we're going to continue to have issues like this right across the province of Ontario."
Both the minister's office and Home and Community Care Support Services cited a provincial promise of $120 million in 2022/2023 to support residents with complex medical needs, including a $20 million "local priorities fund" that is supporting 189 projects this year.
"Some projects will help residents get access to specialized care in their long-term care home, such as beds and equipment for bariatric residents," read both the statement from the minister's office and the one from Home and Community Care Support Services.
A statement emailed from the Ministry of Long-Term Care noted there is a capital fund available for long-term care homes for expenses related to bariatric beds and equipment where it is needed for patient safety.
There are designated bariatric beds for residents with special care needs in communities across Ontario, according to the ministry. However, neither the Ministry of Long-Term Care, nor Home and Community Care Support Services could confirm how many bariatric beds there are in Ontario.
Like the follow-up questions and interview requests, Ireton and McIntyre's quest for a long-term care bed feels like a game of hot potato between the services and elected officials charged with the care of Ontario's elderly.
The wait of the situation
McIntyre said there's a bed pending for her mom at Sunset Manor, the County of Simcoe-owned and operated long-term care home in Collingwood. However, it's on hold while an application for funding to cover the home's accommodation costs for Ireton is made.
The County of Simcoe's health and emergency care services staff confirmed there are bariatric residents in county-owned homes, and they have bariatric beds, commodes and other specialized equipment.
"Where we currently have restrictions, are unique physical requirements such as bathtubs or doorways," noted an email statement from the county.
Simcoe County's long-term care homes include Sunset Manor in Collingwood, Simcoe Manor in Beeton, Georgian Manor in Penetanguishene, and Trillium Manor in Orillia.
The county said there is a limit on the number of obese patients it can accept into its homes relative to the availability of bariatric equipment.
"We need to ensure the home has the equipment to meet resident needs when they are admitted," read the statement.
Follow-up questions about how many bariatric patients can be accommodated at Simcoe County long-term care homes were not returned.
The county confirmed it is aware of the promised Local Priorities Fund from the provincial government through Ontario Health, and said when the funding becomes available, the county intends to apply for it.
There are three long-term care homes in Collingwood with a combined total of 274 beds. There are 672 people on the waiting lists for the three homes.
A provincial record of wait lists shows the following for area nursing homes as of April 30, 2023:
Sunset Manor in Collingwood has 150 beds, plus 275 people on the waiting list
Collingwood Nursing Home, 64 beds, 169 people on the waiting list
Bay Haven, 60 beds, 228 people on the waiting list
Errinrung Long-Term Care Centre (Thornbury), 60 beds, 23 people on the waiting list
Stayner Care Centre, 49 beds and 142 people on a waiting list - construction underway for 79 new beds.
Creedan Valley Care Community, Creemore, 95 beds, and 67 people on the waiting list
Sara Vista, Elmvale, 60 beds and 169 people on the waiting list
PeopleCare Meaford Long-Term Care, 128 beds and 59 people on the waiting list
Grey Gables in Markdale has 66 beds and 159 people on the waiting list
Victoria Village in Barrie has 128 beds and 718 people on the waiting list
Georgian Manor in Penetanguishene has 146 beds and 404 people on the waiting list
Simcoe Manor in Beeton has 126 beds and 531 people on the waiting list
Trillium Manor in Orillia has 122 beds and 545 people on the waiting list
'Something's gotta give'
No official was able to say how many beds exist locally or provincially for bariatric patients, so McIntyre doesn't have any idea what waiting list, if any, her mom is on.
McIntyre continues to watch her mom's case file get passed around, asking over and over again why her mom can't get the bed she needs, worried the brave face will one day give way.
"She's caught in the system, she's deeply entrenched in it, and nobody will give me any answers," said McIntyre. "The system is screwed … the last 12 months watching this … it's terrible."
Her voice cracked and tears fell as she recalled her mother asking "Should I have just died?"
"What kind of thought is that?" asked McIntyre.
Yet, in the face of hard questions, Ireton dares to express optimism.
"I'm still hoping that I have my own place," said Ireton, smiling and looking at her window sill. "Something's gotta give soon."
In the meantime she tries to keep busy, writing in her journal, talking to family, and making friends with her roommates.
"I try not to stress about not having a placement … that's still up in the air and that bothers me," said Ireton. "I'm trying to absorb that tension and emotion inwardly … I just try to make every day a good one."
The stress is shared by her daughter.
"I want her to have a bed here in town, is what I want," said McIntyre. "I want her to be close to this town so she will have the care and the people around her who know her. I want her to have safety, socialization, friends, and I want her to be active in the community she will be living in. And I want her to have the quality of life she hasn't had in the last 12 months. And I want her to have family."