Orillia and the rest of Canada are remembering Gordon Lightfoot.
His music triggers lots of memories and emotions for me, probably not unlike millions of other Canadians.
My first introduction to Lightfoot's music was the Canadian Railroad Trilogy, released in 1967. I remember listening to it in Grade 8 the following year (our teacher was a huge Gordon Lightfoot fan) and, along with my classmates, loved the story it told and how it was told through words and music. I would hear it a few more times later in high school where we dissected it even further.
Lightfoot's next musical imprint on my teen brain later in 1968 would be political, poignant and hit a lot closer to home.
When Black Day in July — Lightfoot's ode to the 1967 summer race riots in Detroit, Mich. — was released in 1968, I was living just a few miles away in peaceful south Windsor. The previous summer we'd been house hunting along the Detroit River: manicured lawns and suburbia to the right, billowing smoke and emergency lights across the river to the left.
The mile in between didn't seem far enough.
Lightfoot's song nailed that summer of discontent at least as well as any black or white American musical act did and he took quite a bit of heat for it. I liked the song immediately: it was revealing truths and made me think that music could have power.
I had the opportunity and pleasure to meet Lightfoot's friend and longtime guitar player Terry Clements in 1989 during a photo shoot while I was working at a Newmarket newspaper.
Clements had been busy in Los Angles before he began playing with Lightfoot in 1971 after a lineup change in the band. His guitar is featured on Lightfoot's most memorable work, including his solos on The Wreck of the Edmund Fitzgerald, which spent 21 weeks on the U.S. Billboard charts.
There may have been gold records scattered around the walls of his home studio and guitars everywhere, but he was just a really nice guy. Easy to talk to.
He passed away in 2011 after a stroke — just weeks prior he was still rehearsing with Lightfoot — and was always remembered by Lightfoot as one of his best friends.
Whenever I hear The Wreck of the Edmund Fitzgerald and his amazing guitar, I think of him.
I also think of my father-in-law.
Hmmm.
Within months of the Edmund Fitzgerald going down, Jack Kennedy — the Canadian Coast Guard's district manager in Parry Sound — got a call from Lightfoot, who wanted information around the ship's sinking. The singer was renowned for his attention to detail — along with an appropriate amount of artistic licence — so a call up to 'The Guard' for some background must have seemed in order.
"His name didn't ring a bell to me," Jack says with a grin. "I didn't know who it was to tell you the truth. I just had a nice long chat with him and told him what I thought about different things. We talked back and forth about some other stuff, too."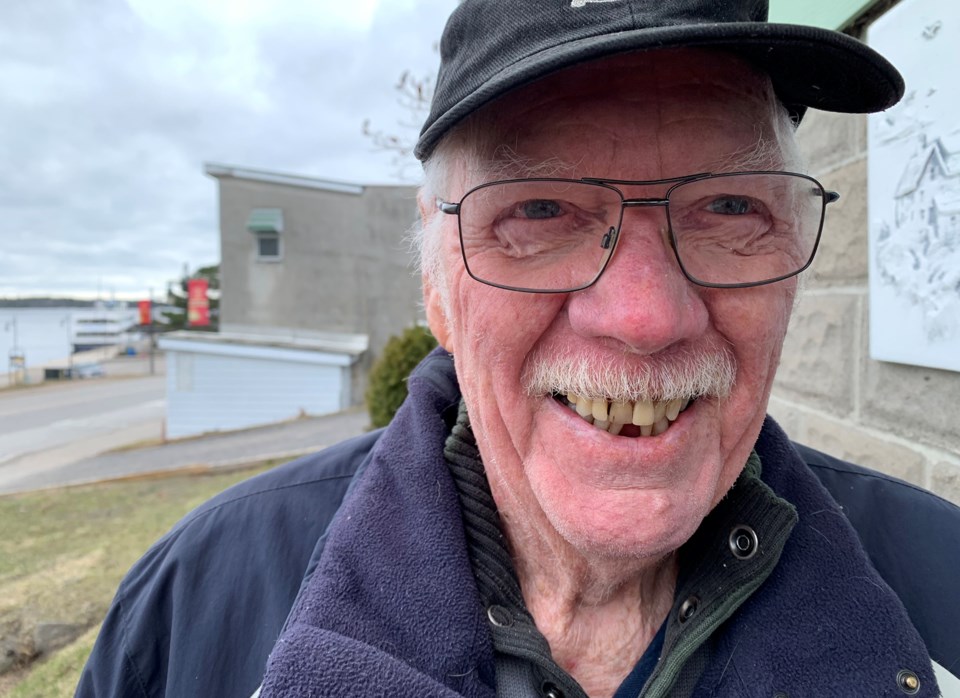 No need to be star struck.
"I came out of my office where the other staff were and said, 'I just got a call from this Gordon Lightfoot fellow about the Fitzgerald. Who is he?' They kind of laughed and said, 'Don't you know who Gordon Lightfoot is?' And I said, 'No, I don't.'"
But the musician went to the right place if he wanted some background on one of Canada's most famous nautical disasters, with Jack spending 38 years in the Coast Guard, including 16 on the water. Starting as a deck hand, he worked his way up to captain, then became superintendent of lights, then superintendent of navigational aids and then district manager for about 10 years.
"In the meantime I did go on a steamship (laker, freighter) for a year-and-a-half and I actually ended up in a big storm similar to what the Fitzgerald encountered," says Jack from his Bay Street home on Parry Sound harbour.
"We did the same thing. We had to go north of Cariboo Island and follow the shore and try to get away from the heavy seas. We really got racked up good," he adds. "That was my biggest storm for sure and it was the same trip the Fitzgerald had made. They had to go along the Canadian shore to try to avoid the heavy seas.
"We didn't figure we'd survive that night really. It was pretty horrendous."
Lightfoot utilized his previously-mentioned artistic licence when drawing upon some of their conversations for the song, adds Jack.
"At first, there were many different theories about what happened," he says, "and there are a lot of presumptions because nobody survived."
The musician's original lyrics — 'At seven p.m., a main hatchway caved in' — was later disproven (Lightfoot altered the words in later performances) and also contained some possible, but not likely, scenarios, says Jack.
Another memorable line — 'The captain wired in he had water comin' in. And the good ship and crew was in peril.' — was also a little off the mark.
"The captain never indicated he was in peril. The last thing the captain said just before it went down was, 'we're holding our own'. Just prior to that he said, 'we're taking on water and we hope our pumps are keeping up'," he says. "You don't know if your pumps are keeping up or not. You can't go down into a bilge and see how much water is in there.
"You can't go outside. You just hang on for dear life. Anyway, she probably was sinking but you don't know the boat is sinking if it's loaded with iron ore because you're really down in the water."
Jack's own theory is that the Fitzgerald was taking on water from a crack.
"A ship takes a lot of strain in heavy seas," he says. "I can remember looking back aft from the wheelhouse when we were coming down the same area and you could see the whole boat twisting. So you could easily get a fracture in the hull doing that overtime."
But when she did go down, she went down immediately, he adds.
"The guy was talking on the phone and then 'boom', he's gone. So it didn't take a long time; it was sudden."
But one part of the conversation between the sailor and the song writer did come across in the tune.
What would you say to a group of sailors who could be hours or minutes away from dying?
"We talked about a lot of different things but that was definitely one of them," Jack says. "He asked me specifically what the crew would say to each other, how they would act, that sort of thing. I said something like, 'So long boys. It's been good to know you'.
"It was a cool song. I do recall hearing it and going, 'Oh, that's the guy I had the talk with'."
Ian McInroy is a veteran reporter-photographer whose work has often appeared on BarrieToday.