Even the 75,000-square-foot Canplas Industries warehousing expansion shows Barrie needs more industrial land, says Mayor Alex Nuttall.
"If Canplas needed to go and add another 50,000 square feet … I think they would be very hard-pressed to find the right place to do it," he said Monday afternoon at the south-end facility, located at 500 Veterans Dr.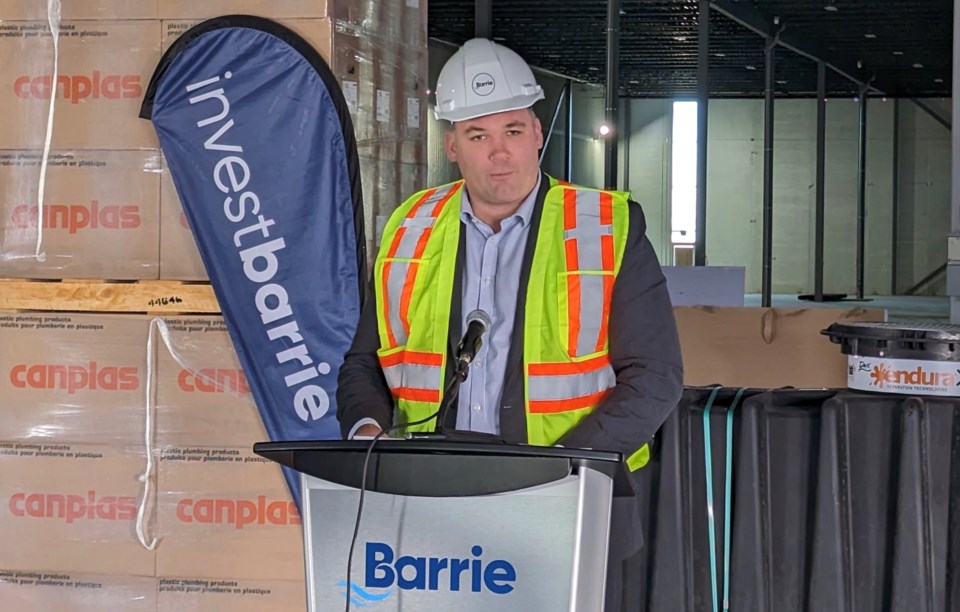 Barrie has approached both Springwater and Oro-Medonte townships with plans to develop their land — for industrial, manufacturing and warehousing use — but has been rebuffed by both of the city's neighbours.
The provincial standing committee on heritage, infrastructure and cultural policy, regional governance and Bill 234, learned of Nuttall's plan Nov. 6.
"It's also important where we're talking about industrial land, we're not talking about 2023 or 2024," Nuttall said. "We need land to be able to plan out our future as a city. Businesses, they need to understand that there's stability here so they're able to plan out the future of their shops, or their manufacturing processes."
Stephannie Schlichter, Barrie's director of economic and creative development, said the city has sold all of its industrial land.
Preliminary data estimates there are approximately 240 to 280 hectares (593 to 692 acres) of vacant industrial land that could access municipal services, such as water, sewer, etc.
"Within the current inventory, we are challenged to satisfy the demand from end-users seeking to buy larger tracts of land," Schlichter said.
Nuttall has identified 1,907 acres of land, public and private, east of Penetanguishene Road and generally south of Highway 11 in Oro-Medonte, for Barrie's industrial land project.
Three parcels of land in Springwater Township have been identified by the city for potential industrial development. There are 2,564 acres in and around Little Lake, much of it city owned, 422 acres along Highway 90 and 284 acres in the Midhurst area, just north of Barrie.
Barrie could provide for 20,000 industrial, manufacturing and warehousing jobs during the next 20 years if it could work out a deal to use neighbouring land, Nuttall has said.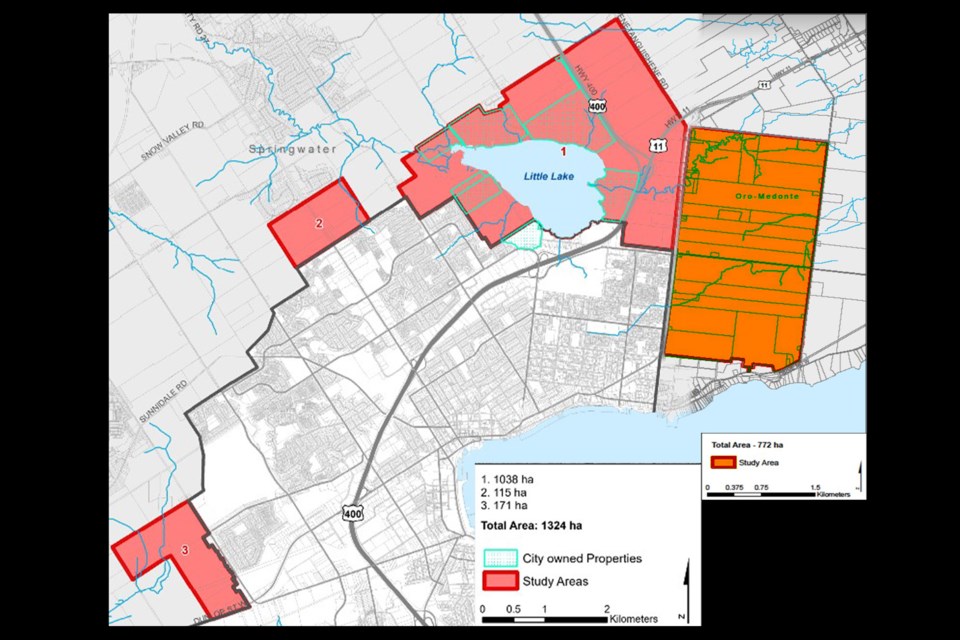 Canplas, 52 years in Barrie next year, manufactures high-quality plumbing, ventilation, central vacuum and grease separation products for residential and commercial buildings throughout not only North America, but New Zealand, Latin America and the United Kingdom.
"This facility, when we occupy it, will bring us up to almost 300,000 square feet of warehousing," said Canplas president Rich Schlieker. "The nice part about that is almost all of our people in Ontario live in the Barrie area, so that's a testament to what a great market this is for a labour force."
"The 75,000-sq.-ft. expansion of its distribution facility provides Canplas with the space it needs to keep pace with the volume of manufacturing coming out of its (Barrie) plant," Nuttall said, "ensuring the retention of 250 good-paying, high-quality jobs.
"Barrie's growth story is rooted in supporting the growth of our existing businesses in addition to attracting new ones to our city," the mayor added.
But Nuttall has said that because there's little city-owned or privately owned industrial land available, Barrie is losing industry and jobs.
Last month, TNR Industrial Doors, part of Hörmann Group Canada and at its Fairview Road facility in Barrie since 2003, announced it was relocating to Oro-Medonte Township, along with its 86 employees.
"The demand is significant," Nuttall said. "We're very blessed that we have another 75,000 sq. ft. with Canplas, but we'd be hard-pressed to find other opportunities for that in the future."
In January 2023, Canplas also announced plans to build a new 24,000-sq.-ft. loading dock at its Patterson Road facility, near Tiffin Street and Highway 400, an addition to the existing 166,000-sq.-ft. building.