BarrieToday welcomes letters to the editor at raymond@barrietoday.com. Please include your full name, daytime phone number and address (for verification of authorship, not publication).
*************************
It will cost you!
On Sept. 7, Township of Oro-Medonte council voted in favour of proceeding with moving forward with a reduction of development charges on commercial and industrial uses in spite of the fact that Oro-Medonte's development charges are among the lowest in the benchmark survey that was done by it's external consultants.
Reproduced below is an excerpt from the consultant's report that clearly shows that Oro-Medonte's development charges are among the lowest with respect to commercial development of the municipalities that were benchmarked (industrial graph is very similar).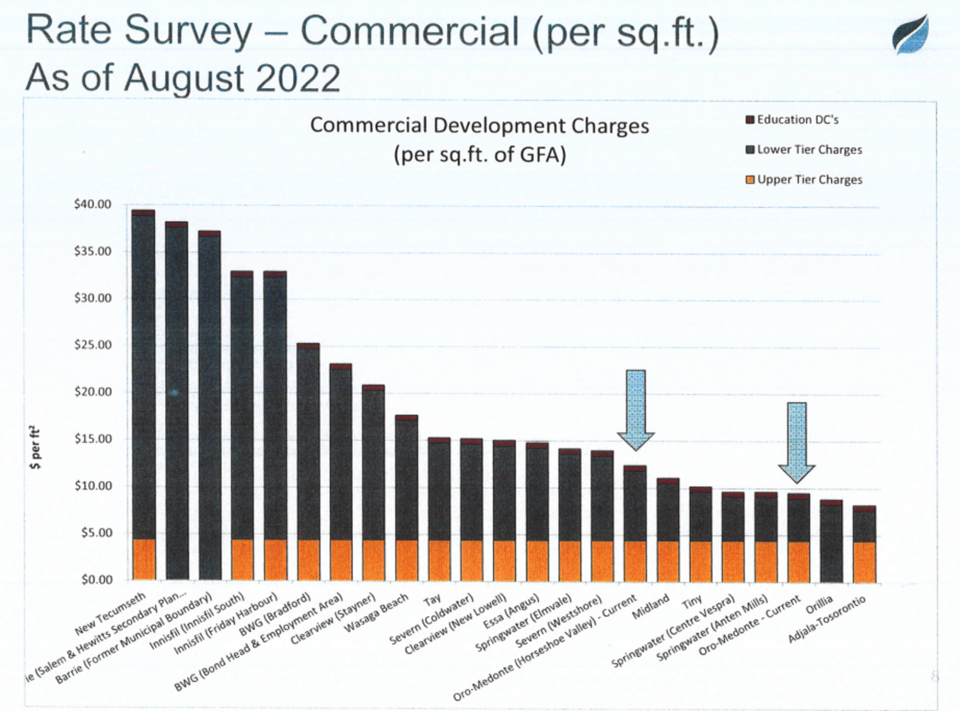 What does this mean to you and I as homeowners and residential property taxpayers?
It means that developers of industrial and commercial properties will get a "break", a reduction in their development charges. As development charges fund new infrastructure (like roads, utilities, etc.) it means that the cost of providing the infrastructure required for such development is going to very likely be paid by you and I in in the form of residential property tax increases – unless the township has some other "magical" source of funds, other than tapping into reserves that we funded.
Just to reiterate this point and as presented to council by the consultants the township hired: "Any reductions in the (development charges) will need to be funded from other non development charges sources (i.e. property taxes, water/wastewater rates, reserves, etc.)"
Not sure what council or those on council that voted in favour of proceeding were thinking (Yea is a vote in favour)! Below is an excerpt from council minutes on the recorded results of the vote to proceed.
Recorded vote requested by Deputy Mayor Hough
Deputy Mayor Hough: Yea
Councillor Keane: Yea
Councillor Scott: Yea
Councillor Veitch: Nay
Councillor DeSousa: Yea
Councillor Greenlaw: Nay
Mayor H.S. Hughes: Yea
I also question whether a pre-election lame duck council has the moral authority to move forward on a matter like this! However, this vote is an early step in the process required to make this proposed change a reality. The final vote will happen after the municipal election in October.
Are you in favour of paying more residential property taxes in future to subsidize commercial and industrial development?
So, something for you to think about as you cast your ballot on Oct. 24. Hoping our post-Oct. 24 council reconsiders moving forward with this tax break for developers at our expense!
Doug Varty
Oro-Medonte
*************************